Monday, January 07 2013 @ 06:00 am ACDT
Contributed by: Wesley Hull
Views: 3,377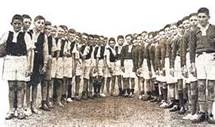 Do you remember your first Aussie Rules footy match? I remember mine like it was last week. I was running out onto the ground in my Clayton footy jumper. I was so proud. The club wore Collingwood colours (and being an Essendon supporter, I still have involuntary tremors…even today). It was 1972, I felt ten feet tall and….

Hold on a moment! That statement is not correct. Not even close. Why? Because my selection to wear the purple and gold of the Clayton South Primary School footy team pre-dated club football in black and white by a good twelve months. In fact, I still remember my dad suggesting that if I did well enough in the school team, he would let me play in the local league the following year.

I'm quite sure that many readers of this article might also look back into their pasts and find a connection to school footy at some point. The more I think of it, my school days were responsible for some of my greatest footy moments. My first recorded "speccy" attempt was one. I missed the ball and slid quite gracelessly off the back of my opponent step ladder, winding myself. But it was possibly the highest I ever flew. The captain of my high school team in the late seventies was a certain Chris Mew, who would later become an integral part of one of the greatest Hawthorn squads in history through the 80's and 90's. In the same team, however, was one kid who went on to play reserves for Essendon and South Melbourne, and another whose older brother was a part of the inaugural Sydney Swans team in 1982. Through school footy I managed to meet some pretty fine players. Actually, in some ways, school footy in my Victorian upbringing was a bit like a "best of" team, with a cross section of some of the finest local talent attending the same school.