Sunday, December 30 2012 @ 10:11 am ACDT
Contributed by: Wesley Hull
Views: 1,586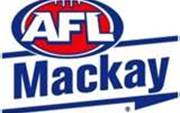 There is a fairly widely held knowledge that Australian Rules football can be traced back to as early as the 1860's in the south east corner of Queensland, most particularly Brisbane. It has taken far longer, however, for the game to break into many northern markets.
Even though there were sporadic outbreaks in places like the Atherton Tablelands and Thursday Island, they were generally linked to the stationing of servicemen in those areas and rarely survived beyond the war years, unless absorbed into other competitions. It was not until the 1950's that competitions began in Townsville (1955), Cairns (1956) and Mount Isa (1957).
But in 1969 there was much correspondence sent between Mackay and Victoria. In a situation which must almost echo the storyline of the movie, The Shawshank Redemption, where Tim Robbins's character writes to the authorities so often that they give in and send him money for library books, the Australian National Football Council (precursor to the AFL Commission) gave in and sent fifty dollars to Mackay to help pay for stationary to allow the paperwork to go ahead for the creation of another centre of Australian Rules football in North Queensland. Fifty bucks to get started!