Sunday, September 04 2016 @ 01:03 PM ACST
Contributed by: Wesley Hull
Views: 670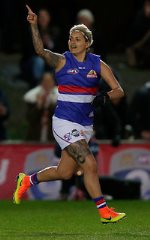 Just at the moment all I want is a set of footy cards. Not those big, burly blokes that usually grace the cards. I want a set of women's league cards. They probably already exist, but I imagine that there will be more of them made featuring more players and available in more places when the national women's league gets underway next year.
In the past I have found that cards have been a great giveaway for kids. They help to generate excitement as kids are maybe lucky enough to stumble across a card of their hero.
After last night's match at the Whitten Oval, where the Western Bulldogs downed the Melbourne Demons in an historic first victory, the footy world was rewarded with a collection of "marquee" players, young guns of the future and old hands steadying the ships. That these players were our most elite women showed just how far the game of Australian Rules football had come in recent times and was a vision through a crystal ball of what will come.