Sunday, July 23 2017 @ 09:03 pm ACST
Contributed by: Wesley Hull
Views: 370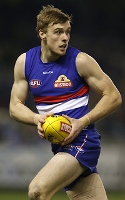 Jordan Roughead, Liam Picken and Lachie Hunter were three of the younger and less experienced players at the Western Bulldogs back in 2014. On their first visit to Cairns for the annual match against the Gold Coast Suns at Cazalys Stadium, the three were sent down to Gordonvale – 25 kilometres south of Cairns – to meet with the kids at the Pyramid Power club. After a kicking session and a frenetic handpassing match with the locals, the three returned to their hotels.
Returning in 2017 the three are now premiership players and three of the first picked in a strong, talented Bulldogs team. Today in Cairns they all helped the Bulldogs to down the Gold Coast Suns by 54 points and keep their finals hopes on track.
Yesterday, Jordan opened up about his personal love of Cairns and that of his Western Bulldogs team mates.
"We love being up in Cairns as a playing group and as a club."