Monday, April 10 2017 @ 08:39 PM ACST
Contributed by: Wesley Hull
Views: 479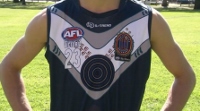 Peter Dye, coach of the Victorian team at the 2017 Kickstart Championships, has a skilled team around him. Apart from his assistant coach Dylan Harvey, and team manager Jack Henty, he is also surrounded by some seriously experienced firepower. Former AFL players in Aaron Davey (Melbourne), Chris Johnston (Brisbane, Fitzroy) and David Rodan (Richmond, Port Adelaide, Melbourne) bring many hundreds of game's experience to the coaching bench.
The two coaching components come together – the formal and the additional – to prepare the Victorians for their next match: a clash with the NSW/ ACT team. It soon becomes apparent that these boys cannot have too many coaches and too much advice. They are fortunate, and they will respond by bringing every coach's wishes or instructions to life.
Pre-game and the coach re-addresses the pillars around which the team's game plans will hinge. Effort is broken down into clearer, more measureable pieces. Work rate, tackling, communication and being first to the ball are the themes that will galvanise these boys once the siren blows. Focus is also placed on the one percenters – the small actions on which great success grows.