Sunday, March 25 2018 @ 06:49 pm ACDT
Contributed by: Wesley Hull
Views: 1,707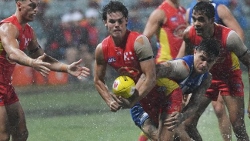 Visiting teams have learned this over the years – Cazalys Stadium in Cairns is wind affected. The howling southerly gales that travel up the valley from Innisfail heavily assist the northern end of the ground and make scoring at the other end difficult. Not so last night, with scoring heavily assisted by the tide rather than the wind.
(Picture: Jack Bowes leads the way for the Suns)
With Tropical Cyclone Nora nearing landfall at Kowanyama on western Cape York, and threatening coastal communities around the Gulf of Carpentaria, the cyclonic rain settled happily over Cairns. With freestyle and backstroke races an equally viable option on the Cazalys Stadium surface, the football went ahead as planned making a whole new spectacle that even the AFL hadn't bargained on.
The opening centre bounce was wisely replaced by the opening ball-up, otherwise they'd have never found the ball again. However, from then on the Gold Coast Suns and North Melbourne Kangaroos sloshed it out in front of a very enthusiastic, albeit mostly bedraggled crowd. Those who braved the conditions should be commended, and they witnessed a hard slogging affair from two committed teams. During the first quarter, neither gave an inch and adapted relatively quickly to the conditions.