Thursday, November 16 2017 @ 10:19 pm ACDT
Contributed by: Wesley Hull
Views: 2,438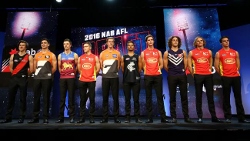 In a little over a week, the AFL world will be lauding the latest number one draft pick. The Brisbane Lions hold the pick this year and are already considering how to use it. At the same time, they will be hoping it will bring the dawning of a new area rather than being a poisoned chalice. To some, the gaining of the number one draft pick is a chance to obtain greatness, but history shows that isn't always the case.
AFL/VFL history is littered with failures – admittedly most from the era when drafting was a very inexact science. But names like Richard Lounder (Richmond, 1987), Anthony Banik (Richmond, 1988), Stephen Hooper (Geelong, 1990) and John Hutton (Brisbane, 1991) never reached the highest of expectations that came with the pick.
On the other hand, Nick Reiwoldt (St Kilda, 2000), Luke Hodge (Hawthorn, 2001), Brendon Goddard (St Kilda, 2002), Adam Cooney (Western Bulldogs, 2003), Brett Deledio (Richmond, 2004) and Marc Murphy (Carlton, 2005) have gone on to be revered names in the game.