Thursday, August 10 2017 @ 08:57 PM ACST
Contributed by: Wesley Hull
Views: 357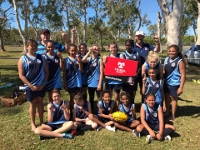 Beneath the benevolent, watchful gaze of the mighty Walsh's Pyramid in Gordonvale, Far North Queensland, something is stirring in the sporting undergrowth. This is a sugar town with a proud heritage, and a heritage that has been heavily linked to Rugby League for decades. Other sport is played – the people of town and district thrive on it – but any town which makes roadside signs to honour their own League hero, Nate Myles, is a league town.
But it hasn't always been that way and from the late 50's the early 70's the Gordonvale/Aloomba area had Australian Rules football teams (under a variety of names and combinations) in the early AFL Cairns competitions. Those teams faded into history – not extinct, simply dormant.
By 2005 a new presence arrived on the footy scene with Pyramid Power juniors entering the competitions and based in Gordonvale. Only last year they gained a reserve grade team, and that team will now play in their first finals series after just two seasons. It is a great example of how the game is returning to the area in a big way.