Friday, October 17 2014 @ 04:54 PM ACDT
Contributed by: Wesley Hull
Views: 1,261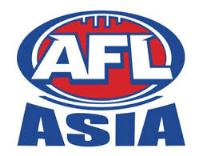 The Philippines Australian Football League proudly hosted the 2014 Asian Championships last weekend where teams met to decide which was the best Australian Rules football nation in Asia. Described as "the pinnacle of the AFL Asia calendar", it was the Singapore Wombats who revelled in the glory of being 2014 champions.
The event was somewhat sandwiched between the battle for European supremacy (Euro Cup) and North American bragging rights (USAFL Nationals) but drew a strong and enthusiastic following for a great day's football.
Following are the results from the 2014 Asian Champs that were held in Clark, Philippines on 11 October 2014.