Sunday, August 10 2008 @ 04:23 am ACST
Contributed by: Aaron Richard
Views: 5,941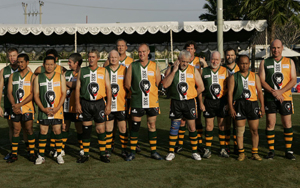 The Bali 9s last June saw the debut of two new teams in South-East Asia - the Timor Leste Crocs and the Borneo Bears. Both teams were created this year, with the Bears based in Balikpapan, a city situated on the island of Borneo, in the Indonesian province of East Kalimantan.
A few months on, the club was on the training track, with a squad of Australians, Kiwis, Europeans and locals. In honour of the Kalimantan Sun Bear found in the surrounding jungle, the team took on the name "Bears", starting a relationship between the club and a local Bear sanctuary which the club is helping both through donations and volunteer assistance.
In addition to another tournament in Bali in October, the Bears starting an Auskick program in two weeks' time and plans for a mini-league in local schools.