Sunday, August 31 2008 @ 04:55 pm ACST
Contributed by: Graeme Carey
Views: 2,271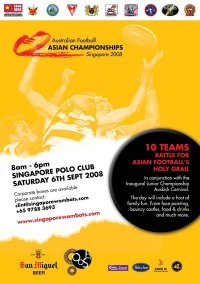 Saturday, September 6th sees the 9th edition of the Asian Championships, the holy grail of football in this part of the world. This year sees 10 teams competing in two groups under a lightning premiership type format. Whilst in the past the all-important draw has been random, this year sees the finalists of the 2007 Championship, Hong Kong and Bali deliberately drawn in opposing groups. A further innovation is the introduction of semi-finals where, in a cross-over manner, the top two teams of each group will meet, the winners to contest the Grand Final.
Because of the intense nature of the competition, being played over one day, often in extreme weather conditions, fitness and depth of squad are often major contributing factors in determining the outcome. So far, only 3 teams, Hong Kong (3), Singapore (3) and Indonesia (playing as a combined Jakarta-Bali side) have won the Asian Championships, though Bali have finished runner-up in the past 3 years.
The 2008 championships will be held on the grounds of the Singapore Polo Club and will offer a great venue for the Asian Champs including for the first time 5 star corporate and VIP entertainment plus a dedicated kids play area with jumping castle, face painters and more.