Tuesday, October 19 2010 @ 08:00 pm ACDT
Contributed by: Ash Nugent
The Dubai Heat continue to build on their reputation as a powerhouse football club, winning their third consecutive Asian Championships. Dubai overcame Singapore in the final, with Hong Kong too strong for Indonesia in the third place playoff. Whilst every team present bar Macau managed to win at least one match, ultimately the previous winners of the tournament who were again participating (Dubai, Singapore and Hong Kong) remained in a class of their own.
The Final Ladder
Position
Team
Points
1
Dubai
20
2
Singapore
16
3
Hong Kong
16
4
Indonesia
12
5
China
8
6
Japan
8
7
Vietnam
8
8
Malaysia
4
9
Laos
4
10
Barbarians
4
11
Thailand
4
12
Macau
0
Scores and photos to follow in the next few days
Monday, October 18 2010 @ 06:45 pm ACDT
Contributed by: Ash Nugent
A fast finishing Melbourne yesterday defeated Brisbane in the Shanghai Showdown. The Dees trailed by as much as 29 points in the final term, but managed to win the match with the last kick of the game, off the boot of Liam Jurrah. This took his tally to five goals and helped earn him Best on Ground.
The match was played out in front of 7,000 fans at Jiangwan Stadium, less than a quarter of the stadium's capacity, and the empty seats were clearly evident on television. An AFL report prior to the match suggested a possible television audience of 30 million. If that many tuned in for the contest it would be less than 3 percent of China's population but more than Australia's whole population. The AFL Grand Final draws around 2.5 million viewers in Australia (12% of population); to reach a total number that is twelve times that amount for a first match on Chinese soil would be quite impressive.
Overall the AFL was happy with the experiment, with David Matthews quoted saying, "Today's match was a fantastic exhibition of Australian Football in front of a very enthusiastic and big crowd which exceeded our expectations. There's no doubt we would play another game in China and we will work with our partners and AFL clubs to make that happen."
Final scores: Melbourne 12.12 (84) defeated Brisbane Lions 11.13 (79)
Saturday, October 16 2010 @ 10:04 pm ACDT
Contributed by: Brett Northey
AFL Chairman Mike Fitzpatrick, head of the AFL Commission and the man who fast-tracked the entry of the Gold Coast and GWS clubs, is in China as part of the AFL's promotion of the sport ahead of the Kaspersky Cup between Brisbane and Melbourne. Fitzpatrick said that "Our game is 150 years old but this Sunday we will play our first ever match here in Shanghai," he said. "To quote an old Chinese proverb: 'A journey of a thousand miles begins with one small step'. Tomorrow we take that step."
Various clinics have been held with school children and an AFL talent combine. Some photos of the events so far can be seen here.
Saturday, October 16 2010 @ 12:40 pm ACDT
Contributed by: Ash Nugent
Sri Lankan English-language newspaper The Daily Mirror is reporting that a group of AFL officials recently met with the country's Minister of Internal Trade & Cooperatives, Mr Johsnton Fernando. The meeting, which was arranged by Manel Dharmakeerthie, discussed how best to promote Australian Football in Sri Lanka.
Dharmakeerthie is known in South Asia for his involvement with the Chinese sport of Wushu. He is now working closely with Milton Amarasinghe, a former Director General of Sports, to develop Australian Football in Sri Lanka. Their first aim is a tournament to be held in 2011. Fernando was supportive of their plans, and has agreed to offer, "his fullest support to develop footy (in Sri Lanka)."
Several current and former AFL players were also present at the meeting, including the AFL's new International Ambassador, Brett Kirk. The players are in Sri Lanka to learn more about that country's indigenous Vadda people and their place in Sri Lankan society, in an attempt to assist Australia's own indigenous communities upon their return.
Tuesday, October 12 2010 @ 08:18 am ACDT
Contributed by: Brett Northey
Views: 2,194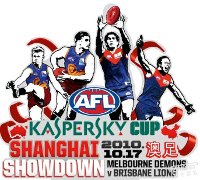 An exciting feature of the Kaspersky Cup AFL match between Melbourne and the Brisbane Lions is that China will take on a development squad from Japan in the curtain raiser. It's fair to say there's long been a strong rivalry between these two countries and not only does the proximity give China an obvious local opponent, it also could help give the Japanese league a boost.
Japan are sending an Under 21 team for the match, which should provide a good 9-a-side contest. Japan's full squad are ranked 14th in our unofficial world rankings, with China notionally one spot ahead, but not yet playing enough games to qualify. The Samurai's are bringing 13 players and 5 officials. China's players will be roughly 50-50 from Beijing and Shanghai.
Two days prior to the match, which is part of the World Expo, the AFL will stage its first ever "Asia Combine" (using the new description the AFL is using for draft camp style sessions). This will be held at Shanghai University of Sport (very close to Jiangwan Stadium) and will have a number of staff present with AFL high performance experience. There will be testing of athletes and a number of drills and activities aimed at gaining further experience in Australian Football. All participants of the curtain raiser match have been encouraged to attend.
Sunday, October 10 2010 @ 09:00 pm ACDT
Contributed by: Troy Thompson
Views: 3,091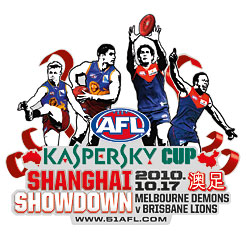 The Melbourne Football Club will embark on a 14-day tour of China, highlighted by The Kaspersky Cup Shanghai Showdown match between The Demons and the Brisbane Lions at Jiangwan Stadium on Sunday.
The Club will depart Melbourne on Sunday October 10 returning on Saturday 23. The touring party of 130 includes the full playing list, football department and all administration staff. This is believed to be the biggest ever overseas trip conducted by an AFL club. Melbourne's key destinations include Moganshan, Shanghai, Beijing and Hong Kong.
Friday, October 08 2010 @ 02:44 pm ACDT
Contributed by: Troy Thompson
Views: 3,202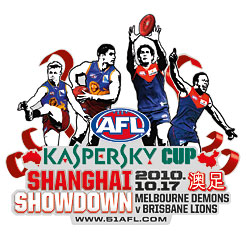 Woodside Energy, one of Australia's major energy exporters to Asia, has agreed to become a major sponsor of the Australian Football League's first ever match in China. Woodside will be an associate partner of the Kaspersky Cup, AFL Shanghai Showdown between Melbourne and the Brisbane Lions, which will be played at the Jiangwan Sports Centre in Shanghai on Sunday, October 17.
Woodside Senior Vice President, Corporate, Tina Thomas, said the match provided an ideal opportunity to showcase the company's support for Australian football in one of its major customer countries. Since 2006 Woodside has been exporting liquefied natural gas to China from the North West Shelf Venture under a 25-year contract.
The company, which has an office in Beijing, is in discussions with Chinese customers about potential supplies from Woodside's wider portfolio of projects and developments.
Thursday, October 07 2010 @ 07:45 pm ACDT
Contributed by: Ash Nugent
Views: 4,506
The annual Asian Championships of Australian Football will be held in Shanghai on Saturday week, with an encouraging twelve teams to take part, a two-team increase on the previous year's event. All of last year's teams will be present, although Bali and Jakarta are consolidated as Indonesia. Joining them are the Japan Goannas, Macau Lightning and the Asian Barbarians.
Dubai Heat, aiming to win their third consecutive title, are the hot favourites. They're taking the tournament very seriously, withdrawing from the upcoming AFL Middle East season, apparently in an effort to focus on the "greater prize". This is a big statement considering the Heat are reigning AFL ME Premiers.
Friday, September 03 2010 @ 08:50 pm ACST
Contributed by: Ash Nugent
Views: 2,363
This Sunday Hong Kong will host the China Cup. It is the first time the tournament has been played outside Mainland China.
Wednesday, August 25 2010 @ 04:00 pm ACST
Contributed by: Troy Thompson
Views: 4,370
The chief executive of the AFL Andrew Demetriou made the announcement in Melbourne. In a first for Australian sport, the Shanghai Media Group (SMG) will televise one AFL match every week live into China on International Channel Shanghai (ICS). The agreement will include the 2010 Toyota AFL finals series, including the Toyota AFL Grand Final, and the Kaspersky Cup – AFL Shanghai Showdown between Melbourne and the Brisbane Lions in Shanghai on October 17.
It will extend into the 2011 Toyota AFL Premiership season to include one AFL match each week. The agreement was made possible after the ABC and SMG recently signed a co-operation agreement between their international channels, Australia Network and ICS. As part of the agreement, ICS will produce a pre-match program to precede the broadcast of each match to give viewers information about AFL.