Tuesday, February 20 2018 @ 10:02 pm ACDT
Contributed by: Wesley Hull
Views: 4,166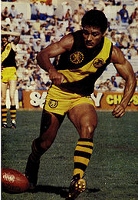 Two AFL Cairns clubs have sought out help from the west for their 2018 season campaigns. Whilst it is not the first time that talented players or coaches have come over to the "tropical north" to boost clubs, it is rare that two clubs have both announced Territorians in the same season as their potential saviours. The decisions certainly reflect the efforts that clubs in Cairns are going to in a bid to stay competitive in an ever-increasing on-field and off-field competition.
Two of the greatest names in Northern Territory football – Motlop and Davey – will have roles at the Pyramid Power and Cairns City Lions clubs in 2018, with a view to having bigger roles in the future.
[Images: Aaron Davey in Lions' colours (left) and Mark Motlop in his playing days at Glenelg (right)]
Mark Motlop is a part of a footballing dynasty in Northern Territory football. Whilst some of his relatives have had wider recognition in AFL circles (Daniel at North Melbourne and Port Adelaide, Shannon at North Melbourne [Kangaroos] and Melbourne and currently Steven at Port Adelaide after leaving Geelong), Mark has, arguably, had a greater impact on the game.