Monday, April 02 2018 @ 09:17 pm ACST
Contributed by: Wesley Hull
Views: 799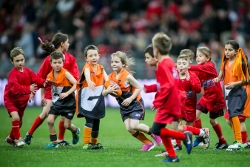 As another football season commences in most Australian Rules football playing locations, it is a time to ponder one of the greatest risks to the game. The future of the game at grass roots level. The following article by J.J. Adams in the Vancouver newspaper and website, The Province, looks at the alarming drop in kids remaining in sports. His template is Hockey in Canada, but the messages are clearly universal, and will impact on Australian Rules football nationally and internationally unless we can find ways to arrest these trends. 
Fear, greed, broken dreams: How early sports specialization is eroding youth sports 
By J.J. Adams (The Province) http://theprovince.com/
Kyle Turris is an NHLer because of his dog. Well, maybe not exactly, but while growing up his golden retriever deserves at least some of the credit for turning Turris into a 12-year NHL veteran. His ball-obsessed dog would chase a young Turris around their Burnaby backyard, the future hockey pro carrying a ball in his lacrosse stick as his hyperactive blur of fur tried to snag the hard rubber prize.