Monday, April 17 2017 @ 12:05 AM ACST
Contributed by: Wesley Hull
Views: 491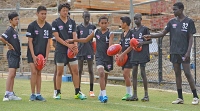 If there was one thing that was learned last week being witness to the 2017 AFL National Male Kickstart & All Nations Championships it was that the multicultural game is growing in numbers and standards. The future of the game's growth both in Australia most likely overseas could get a huge boost as the multicultural carnivals drive growth.
This claim is highlighted rather dramatically by the growth since the 2015 carnival in Cairns. At that event the team numbers were smaller, as was the playing field. Fifteen players a side played on a makeshift mini-field within the larger Cazaly's Stadium. It looked very much like the set up for junior matches.
Fast forward to 2017 and the All-Nations competition (made from teams where player's ancestry of themselves or their parents was having been born overseas) and teams played 16 per side, no wings and on a full sized oval. Not only that, but the standards of play were a far cry from the tournament in Cairns.