Monday, July 16 2018 @ 10:01 pm ACST
Contributed by: Wesley Hull
Views: 3,563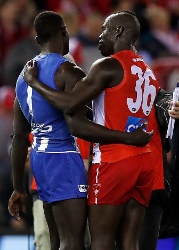 It wasn't the first time that Aliir Aliir and Majak Daw had played against each other. Early in their careers they occasionally lined up on each other, including their first time at the highest AFL level in August 2016 (see
A Glimpse Into An African Future
) down in Hobart. But almost two years on, both have moved further into their careers and after yesterday' thriller at Etihad Stadium, both have gathered even more spotlight.
Aliir Aliir and Majak Daw were lined up on each other for three quarters at Etihad yesterday. Both have had to re-establish themselves at the highest level. Aliir from injury and indifferent form across 2017 and early 2018, whilst Daw had reinvented himself for much of this season as a Kangaroo defender.
However, on the weekend, they were back in their former roles – Aliir the powerful defender and Daw the athletic forward. For three quarters both dazzled and entertained in a power struggle within a bigger struggle as the Roos and Swans remained within touch of each other. Then Aliir got loose up forward for the Swans and kicked the match-winning goal in a thrilling finish. Aliir's effort sent Swans fans into delirium and Roo fans despair. On the day Daw on the statistical battle with four goals. Aliir's single goal won the match.