Monday, August 20 2018 @ 09:50 pm ACST
Contributed by: Wesley Hull
Views: 11,201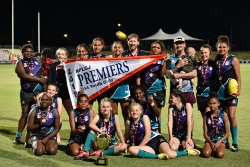 Back in 2013 I wrote an article which promoted the value and merit of school footy (see
School Footy – the Aussie Rules Nursery
). The article considered how important the school footy nursery was to club football. However, it also considered many of the challenges faced by schools and clubs in keeping numbers sustainable. Another factor considered was the devaluation of school footy inasmuch as some sectors did not recognise the value of school football adequately.
Much has changed since 2013, and school football has risen to greater heights – at least in my experience. The increase in women's and youth girl's football has contributed to this.
Our own Pyramid Power girls in Cairns have taken the link between school football and club football to an unusual, but potentially game-changing place.