Sunday, September 16 2018 @ 10:04 pm ACST
Contributed by: Wesley Hull
Views: 2,040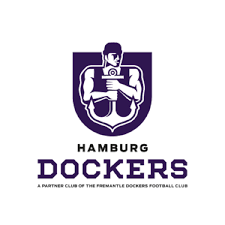 The AFLG Grand Final on the weekend has seen the Hamburg Dockers claim their third premiership, downing last year's winners, the Berlin Crocodiles. In a willing contest, the Dockers pulled away after a tight first half to take the premiership by 55 points in Dresden.
The opening quarter saw both teams take the game on, full of desire and intensity. At the first break, the Berlin Crocodiles held a narrow five-point lead, 3 1 19 to 2 2 14. By half time, the Dockers had regained the lead, but only just. Just three points separated the teams with the Dockers a nose ahead, 5 5 35 to 5 2 32.
The "premiership quarter" lived up to its name as the Dockers made their move. A five goal to one third quarter saw the Dockers take a stranglehold on the game as they flexed their muscle and shut down the gallant Crocs. Three-Quarter Time saw the Dockers lead 10 7 67 to 6 2 38.