Wednesday, November 14 2018 @ 10:27 am ACDT
Contributed by: Wesley Hull
Views: 1,082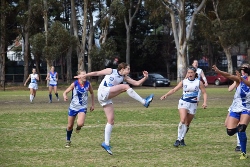 AFL England has announced the Transatlantic Trophy on their www.aflengland.org website. Following is their story detailing the clashes which feature both men's and women's matches.
AFL England is delighted to unveil the Transatlantic Trophy in a new reciprocal arrangement with USAFL, the national governing body for Australian rules football in the United States of America. 
Under the new arrangement, both the USA men's and women's national teams – USA Revolution and USA Freedom, respectively – will visit Great Britain in August 2021 for matches against the Bulldogs and Swans.  
These matches are tentatively scheduled for the 21st August 2021, with the USA expected to play warm-up games in the week prior.