Monday, February 07 2011 @ 03:50 PM CST
Contributed by: Aaron Richard
Views: 1,874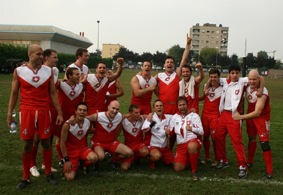 Of the potential new sides at the 2011 International Cup, the newest to footy in general are the Swiss, with the newly-formed AFL Switzerland working hard to find enough sponsorship to make it to the tournament.
A few previous unsuccessful attempts to start teams in Lucerne and Geneva aside, footy has only been played in Switzerland since 2010, when the club in Lugano was created to compete in the inaugural AFL Italia premiership season. Team Switzerland, drawn from the Lugano squad, made its debut at the 2010 Euro Cup.
Switzerland's second club, to be based in the country's largest city Zurich, will hold its first training session at the end of February under the leadership of Jono Newman. Newman spoke to WFN about the national team's chances Down Under in August.
LEFT: Switzerland at the 2010 Euro Cup in Parabiago, Italy. Photo courtesy of Daniela Scalia.