Tuesday, February 15 2011 @ 09:38 PM CST
Contributed by: Aaron Richard
Views: 1,600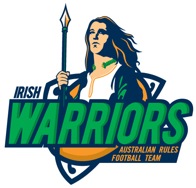 The Australian Rules Football League of Ireland's preparations for the International Cup are in full swing, with the Green Machine taking the unorthodox step of announcing that they are aiming to field a team consisting of only around 50% players from the Irish domestic league.
The remaining fifteen in the squad of thirty are to be selected from Irish expats currently playing footy in Australia, a move which ARFLI President Ciaran O'Hara says reflects both their belief that the Warriors should contain the best Irishmen playing Australian Football wherever they are, and also the fact that a number of former ARFLI players are now playing Down Under, particularly since last year's financial crisis saw a large number of Irishmen emigrate.
With a large dose of Australian suburban and country footy experience, the Irish could be very tough to beat at the IC11, although O'Hara is expecting old rivals such as PNG, New Zealand, South Africa and Nauru to have stepped up in standard since 2008.