Sunday, August 24 2008 @ 03:33 AM ACST
Contributed by: Troy Thompson
Views: 1,683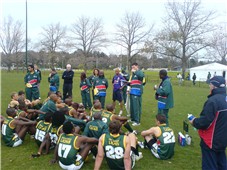 Under cloudy skies and a little late, the International Cup got underway with the first of the Multicultural Challenge Matches yesterday. After some morning drizzle, the rain held off and did not have a great influence on the match.
Gosch's Paddock, the training home of Collingwood Football Club, was in great condition. A small crowd made up of regular international watchers, families of Team Africa, the South African squad and entourage and a few forward scouts from opposition teams saw the game stall slightly.
There was no siren to sound, but shortly after some consultation the umpire tossed the ball up and it was on. The South Africans dominated from the start. With quick handball and plenty of numbers getting around the ball the South Africans put an early goal. It was Jayce Zidel who finished well after quick handball from a pack saw him kick truly from 35m out.