Wednesday, August 06 2008 @ 06:39 PM ACST
Contributed by: Aaron Richard
Views: 3,270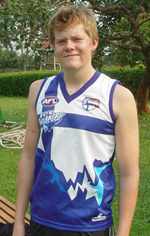 With Finland entering the International Cup for the first time in 2008, the push for new recruits has been in top gear since the first tufts of grass appeared through the melting snow. It is a big ask for one of the newest footy nations on the world to embark on such a mammoth task, and so the net has been cast far and wide to secure Finland's best athletes.
Julian "The Big Rooster" Clark, Finland Footy's Founding Father, recently journeyed out to the British International School in Jakarta, Indonesia where 16-year old Finn Tuomas "Timebomb" Antilla has been developing well with the Jakarta Bulldogs AFC.
The Jakarta Bulldogs are an under 18 team that often play in conjunction with (and sometimes even against) the Jakarta Bintangs AFC, as well as some of the Java AFL's localised senior sides.