Sunday, May 29 2011 @ 07:23 pm ACST
Contributed by: Brett Northey
Views: 1,992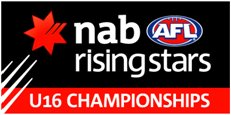 After hearing no word for a while we were concerned whether plans for the 2011 NAB AFL Under 16 still included the World XVIII side. Happily the AFL has confirmed that indeed both the World XVIII and South Pacific will once again be international highlights for the youth championships.
The two international sides will be in Australia for less than the full tournament, resulting in them playing one less game each than the other teams in their grade, Division Two. The AFL's Peter Romaniw explained that "At this point in time they are part of the tournament by invitation, and the "traditional" states who have been involved over the past 16 or so years still wanted the opportunity to play each other, hence some of their games starting earlier. Currently the 2 new teams are allowed some concessions in relation to eligibility of players. We see that in the future they will become a permanent fixture, and therefore play all of the games".
Read on for the full Under 16s draw.