Wednesday, November 28 2018 @ 11:04 pm ACDT
Contributed by: Wesley Hull
Views: 992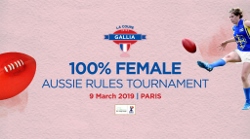 France is about to become one of the premier women's football nations in Europe with the announcement of the 2019 Coupe Gallia tournament in Paris next March. With women's football growing quickly and in large numbers across Europe, the CNFA (the French governing body for Australian football) has taken the initiative to grow the women's game further.
The following media advice from the Paris Cocks Footy Facebook page states:
"The Paris Cockerelles are delighted to announce that they will be hosting the 2019 Coupe Gallia on March 9th. This is the first 100% all female tournament in Europe for Australian Rules football."
"Created by the French Australian Rules Football association (CNFA) in 2017, the purpose is to be inclusive, to showcase the skills of female players and to give women more opportunities to play this great game that we love. The tournament takes place the day after International Women's day. All female clubs are welcome.