Friday, August 18 2017 @ 11:29 PM ACST
Contributed by: Harley Vague
Views: 176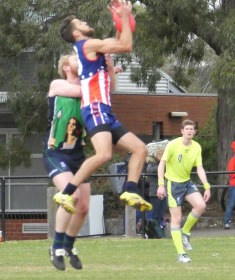 2017 International Cup Round 5
Royal Park, Melbourne
Friday 18th August. 2.15pm
Men's Division 1 U.S.A. Revolution Vs Ireland Warriors
Playoff for positions 3 & 4.
The men's division has been a tight affair with one of the grand final place being decided by percentage. It could easily have been these two teams in the big dance. A marking infringement saw New Zealand kick a goal after the siren for them to qualify for the Grand Final and in doing so PNG moved into the Grand Final on percentage and eliminated Ireland. So close.
Both the U.S.A. Revolultion and the Ireland Warriors play a similar style of football and have the same profile of players. This contest on paper was impossible to pick a winner. The Warriors had the experience of previous International Cup appearances as well as European Cup appearances. Many of the Revolution players lacked international contests but their tall team had garnered impressive wins except for against PNG.

Ireland was probably favourite going into this game. They had defeated the PNG Mosquitos in round one and had only lost to New Zealand with the final kick of the day in round four. The U.S.A. has had a slightly easier run with the draw but was beaten comprehensively by the Mosquitos in round three. Overall the Revos have seen another big improvement in standard. They've improved over and above other teams that have also improved. But the Warriors' team always consist of a totally competitive unit.