Saturday, April 28 2018 @ 05:23 pm ACST
Contributed by: Wesley Hull
Views: 1,115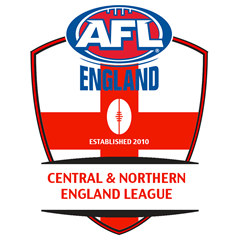 As the 2018 season arrives for the AFLCNE (Australian Football League Central and Northern England), a new dawn rises on a reshaped league. The competition will see just five teams do battle with Sheffield Thunder and the Tyne Tees Tigers missing from the roster. It leaves just five teams to battle out the new season – but those five will make it a battle royale.
This weekend sees the start of the 2018 home and away season. The Huddersfield Rams are hosting the first two matches. The Rams take on the Nottingham Scorpions in the opening match, followed by the Wolverhampton Wolverines up against the Merseyside Saints. Last year's premiers – the Manchester Mozzies – have the opening round bye.
The season shapes as a fascinating battle, in part because of mathematics. Five teams don't fit into a final four come finals time which will make for a huge contest – a little like musical chairs – where one team misses out. This will mean that every game is valuable, percentage paramount and a run to the finish that will see teams going all out.