Monday, July 22 2019 @ 10:33 pm ACST
Contributed by: Wesley Hull
Views: 17,696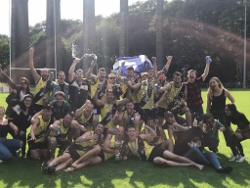 In recent years, write-ups about the run of Manchester premierships has always had a thinly veiled subtext that suggested that they might be reaching the end of their run of success. Well, if that's true, it hasn't happened yet. On the weekend, the Manchester Mozzies claimed their sixth successive AFLCNE premiership.
If they weren't already in rarefied air worldwide after five flags, six in a row takes them to an even higher place.
The Mozzies downed a gallant Wolverhampton Wolverines team – themselves playing in their maiden grand-final. Despite the best that the Wolverines could throw, the Mozzies won comfortably by 52 points. According to the club, however, the game was much closer than the scoreboard suggested.