Thursday, December 27 2018 @ 10:08 pm ACDT
Contributed by: Wesley Hull
Views: 1,023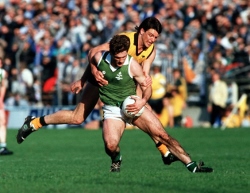 The following article by Kevin O'Brien from the Irish sporting website, The 42, looks closely at the journey of Derry's Gaelic star of the 80's and 90's, Dermot McNicholl. His time at the St Kilda football club in the VFL gives great insight to the early days of the movement to recruit Irish talent to the VFL/AFL system. 
Following is an excerpt from the original story. 
'Our pre-seasons were brutal. I've never gone through anything like it in my life'
Derry legend Dermot McNicholl discusses his stint in the AFL, the Oak Leafers' All-Ireland victory 25 years ago and the rise in GAA stars heading Down Under. 
"And St Kilda joined the international recruiting race, taking a punt on Dermot McNicholl, who has been brought to Australia by VFA club Prahran…St Kilda will bide its time with McNicholl, recognised as the best player in Gaelic football…St Kilda targeted McNicholl because of his pace and toughness and believes he could become a highly skilled player."
-The Age, 10 November 1988