Friday, October 20 2017 @ 08:37 AM ACDT
Contributed by: Wesley Hull
Views: 154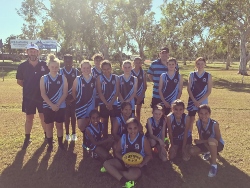 They came from Gordonvale – a small sugar town to the south of Cairns. A town watched over by the mighty Walsh's Pyramid and surrounded by the ubiquitous sugar cane that is the lifeblood of the town. Unlike most of the town, however, they play Australian Rules football – AFL to some.
We are talking about the Gordonvale Bombers – a team of 10-12 year old primary school girls who changed the course of their school's sporting history in one glorious year of commitment, courage, talent and determination. They have firmly placed Gordonvale State School on the AFL map, and much more beyond.
Whilst their achievements are largely measured on their 2017 results, the truth is that these girls started to come together in 2016 when a small group of year five students joined the school footy team for some of their matches in the Queensland Schools Cup and a few other localised school games.