Tuesday, September 17 2019 @ 03:01 pm ACST
Contributed by: Wesley Hull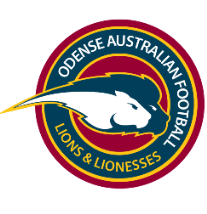 For a club that was born in 2013, the Odense Lions have done remarkably well. Whilst they received the requisite hidings in their early days, the club was in raptures back in 2016 when they reached the DAFL finals for the first time. Just to make sure it wasn't a fluke, they returned to finals action in 2017 as well.
In both campaigns, the club was unceremoniously dumped in their only finals outing. Their 2016 final against the Copenhagen Barracudas saw a 137-point whacking, and their exit at the hands of the Farum Cats in 2017 saw a 93-point deficit.
Sad ends to promising seasons, but it is no real surprise, in retrospect, that 2018 became a year of recalibration for the Lions. The club took the wooden spoon yet the stirrings of 2019's efforts were there.