Sunday, January 25 2015 @ 12:03 AM ACDT
Contributed by: Wesley Hull
Views: 432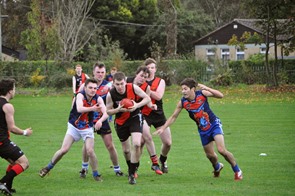 The second Fitzpatrick Cup for Australian Rules football playing university teams in England and Ireland takes place today at the University of Birmingham. The previous inaugural event was held in Dublin late in 2013. It was contested by the NRC Eagles from Northern Ireland, DCU from Dublin, the visiting Oxford University team and was won on the day by the UCC Bombers from Cork.
The second incarnation of the event will see the defending champions, UCC, and fellow Irish team the DCU, up against a larger field which includes the host team, University of Birmingham and the teams from both Oxford and Cambridge universities.
The event is fast becoming an important fixture in the calendar of university based teams, not just for the bragging rights that go with victory against other fellow teams, but for the experience that players can gain and the prestige and confidence that go with victory.