IC14 Preview – Tongan Thunder-Storm about to hit Australia
Monday, July 14 2014 @ 10:48 pm ACST
Contributed by: Wesley Hull
Views: 2,498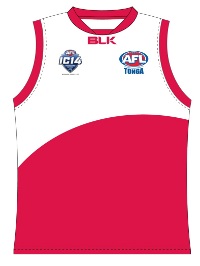 The 2014 International Cup will have two Tongan teams – The Tonga Thunder men's team and the Tongan Storm ladies team. The Thunder Guernsey is shown above and the Storm will have a matching uniform with the colours being blue and white. This will be the men's second visit to the International Cup and the ladies debut.

The Country and Australian football

Tonga is an archipelago in the South Pacific Ocean, south of Samoa. Also known as the Friendly Islands, it comprises 176 islands, 36 of them are inhabited. Tonga is the only monarchy in the Pacific since Taufa'ahau (King George) in 1875 declared Tonga a constitutional monarchy, he also gave Tonga its first constitution. In 1970 the former British protectorate acquired its independence.

With a total population of around 110,000, almost two-thirds of Tonga's population live on the main island Tongatapu, on which the capital city Nuku'alofa (pop. 25,000) is located.
The birth of footy in Tonga is traced back to around 2004, when two Australian expats started a Saturday morning kick around with a few Tongan boys. As interest mounted they decided to form the Tongan Australian Football Association. With the help of the Australian Youth Ambassador for Development (AYAD) program a string of volunteers over the years has helped build the capacity of committee members, coaches, umpires, volunteers and players. In 2007 the TAFA affiliated with the AFL and became AFL Tonga.

One of those volunteers is Malakai Mahina who is assistant coach to the National Men's team and stalwart of AFL in Tonga. Malakai trains the teams every week and is responsible for fitness, conditioning and skill levels.

AFL Tonga believes that AFL football provides a great alternative to the other football codes in Tonga - being Rugby Union and Rugby League. Hosting the 2010 Oceania U16s tournament also provided an opportunity for NRL 'converts' Karmichael Hunt and Israel Folau (of Tongan heritage) to visit Tonga and promote Aussie Rules.

Strengths and Weaknesses

Thunder

After their debut in 2011, the Tongan team has moved forward in the preparation for 2014. Having an International Cup competition the team along with management staff know what is needed to compete in a competition that asks for 5-6 games in 2 weeks. They have several players competing in Sydney competitions representing Cambelltown for the past two years. Undoubtedly this experience will prove beneficial on the field. The team has a healthy average age of 23.5 years, which shows the commitment of voluntary work and the input of AFL is having a positive outcome.

Storm

Playing at their first International Cup, these girls may initially find the going a bit daunting, but they will quickly adjust to the situation. Many of the team are young, have great fitness and skill levels and will endure the physicality of the game. A team to watch.

Players to Watch

•    Penisimani Mahina plays for Cambeltown and has won several awards for them in the past few seasons. He was captain of the 2011 IC team and also captained Tonga to the inaugural 2009 U/16 Oceania Cup win and was named player of the tournament. From there he was named in the inaugural South Pacific Nations team that played in the 2010 National U/16 Championships. He had a great tournament holding down the CHB position. He is a schoolboy Tongan athletics champion.

•    Setefano Nau is new to the game but is a natural athlete. He has picked up the basics quickly and has become a leader in the group both on and off the field. AFL Tonga expect his performances in the International Cup to surprise many people.

•    Fohe Latu and Ha'ele Finau played in the South Pacific Nations team that played NZ at the ANZAC day game in Wellington. Both boys are new to the game but show outstanding fitness levels and commitment.

Form Guide

Tonga Thunder debuted in 2011 seeded 12 and moved up the ladder to 9th. They played PNG (losing convincingly twice), France (win), Nauru (lost), Sweden, (win) and possibly their best game was saved for last when they defeated a fast finishing and more experienced Canadian team.

The team will be coached by Jim Lucy, (coach of 2005 International Cup winners NZ), Malakai Mahina, Ed McGowan (ex VAFA player), Trevor Stack and Barry Lawrence. An experienced group with the latter two have affiliation with Peel Thunder in the WAFL.

Bottom Line

Tonga Thunder will display a solid brand of football, with improved skill levels from 2011 and with some greater game knowledge. While it will always be a hard task to defeat the top tier teams, the Thunder will be a force to be watched carefully.

The Storm don't have the experience of some of the other teams in the ladies competition but will match them with fitness, endurance and spirit, something that this little island nation has plenty of.

Tonga motto – OUA E LOTO FO'I – NEVER GIVE UP