IC11 Squad - Timor-Leste Crocs bringing Bite to Cup
Thursday, August 04 2011 @ 08:33 am ACST
Contributed by: Aaron Richard
Views: 4,563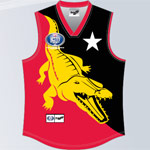 The Timor-Leste (East Timor) Crocs will be making their IC debut this month, doubling as their debut in full-field international footy. Whilst the Crocs have been an increasingly regular competitor on the Asian footy circuit, this month will be the first time an all-Timorese team have played an international test match under IC eligibility rules.
The Crocs will be playing for the pride of their relatively young nation, which only achieved its independence in 2002 after a long period as a Portuguese colony, followed by occupation by Indonesia. Timor-Leste now has numerous connections to Australia, including the security forces helping rebuild the country's political structures and infrastructure.
Although the Crocs are somewhat of an unknown quantity, on paper it looks like their main weakness may be a lack of height, with their tallest player standing only 178cm - 5 foot 10 in the old scale. One key squad member could be vice-captain Carlos Britto, described by the AFL Timor-Leste as probably the only Timorese citizen to have played representative rugby, and also having playing experience in the AFL Sydney.
2011 AFL International Cup - Timor-Leste Crocs squad
Head Coach: Tom Dyer
Manager: Jim Richards
Go to guy: Luke Gosling
| No. | Name | D.O.B | Height (cm) | Weight (kg) | Club |
| --- | --- | --- | --- | --- | --- |
| 1 | Julianto Pinto Quinão | 25/07/1985&nbsp&nbsp&nbsp | 175 | | East Dili Eels |
| 2 | Inácio da Silva Amaral | 7/03/1993 | 167 | 55 | Dili Crocs |
| 3 | Marcos Tavares Pires | 1/03/1984 | 180 | | PDL Toll |
| 4 | Neyl Moniz da Silva | 25/08/1975 | 165 | | Dili Lions |
| 5 | Martinho Freitas | 10/11/1976 | 165 | | East Dili Eels |
| 6 | João Barros de Jesus | 1/03/1982 | 170 | | PDL Toll |
| 7 | Mário Afonso Ximenes | 2/08/1974 | 167 | 60 | Rafa Bananas |
| 8 | Estanislau Maria da Glória Sarmento Caldas | 1/10/1991 | 168 | | |
| 9 | Francisco Miranda de Fátima Freitas Soares | 4/06/1971 | 170 | | Dili Lions |
| 10 | João Carvalho Pereira | 8/08/1984 | 167 | 63 | East Dili Eels |
| 11 | Florindo Pinto | 12/08/1982 | 170 | 86 | Dili Crocs |
| 12 | Anibal Soares de Jesus | 13/07/1983 | 170 | | |
| 13 | Arsenio Augusto de Jesus | 25/08/1988 | 178 | | |
| 14 | Julião Barros | 24/07/1985 | 165 | | |
| 15 | Romualdo Gouveia Barreto | 15/08/1982 | 160 | | Dili Crocs |
| 16 | Hakim Brandão | 9/06/1974 | 170 | | Dili Crocs |
| 17 | Fernando de Araújo | 1/04/1982 | 160 | | |
| 18 | Adelio Agapito Maria Guterres da Costa | 19/03/1974 | 173 | | |
| 19 | Mateus Lassata Netício da Silva Barreto Soares | 5/10/1998 | 155 | | Rafa Bananas |
| 20 | Manuel Marsil Santos da Silva | 25/06/1994 | 167 | | Dili Crocs |
| 21 | Carlos Britto | 5/07/1976 | | | Dili Crocs |
| 22 | Antonio Sarmento | | | | Dili Crocs |