IC11 Squad - Peace Team back in 2011
Thursday, August 04 2011 @ 08:08 pm ACST
Contributed by: Aaron Richard
Views: 4,823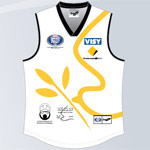 The Peace Team are returning down under for the IC11, again bringing a squad of Israelis and Palestinians to play footy and build bridges between the Jewish and Muslim communities.
Coordinated by the Peres Centre for Peace, the team were a widely reported good news story in the Australian media during the 2008 tournament.
The Peace Team faced a steep learning curve onfield at the IC08, finishing 13th overall in a field of 16. Five players from the 2008 tournament are back again this year, including Kamal Abu Althom, Yonatan Belik, Kfir Kol, Abed Abu Raduan and Naseem Almanasra.
Another name in the squad which may be familiar to WFN readers is Doron Zauer, who is a long-term member of the "AFL in Israel" group which organises social footy in Jerusalem and Tel Aviv.
2011 AFL International Cup - Peace Team (Israel/Palestine)
| Number | Name | D.O.B. | Height (cm) | Weight (kg) |
| --- | --- | --- | --- | --- |
| 1 | Nimrod Vromen | 20/05/1982&nbsp&nbsp | 179 | 86 |
| 2 | Daniel Brill | 2/10/1979 | 176 | 85 |
| 3 | Doron Zauer | 11/06/1980 | 180 | 78 |
| 4 | Kfir Kol | 14/04/1977 | 182 | 75 |
| 5 | Avi Benvenisty | 19/02/1990 | 190 | 87 |
| 6 | Omer Unger | 15/11/1981 | 178 | 90 |
| 7 | Gabi Sachs | 14/12/1976 | 187 | 95 |
| 8 | Daniel Belik | 25/08/1991 | 183 | 84 |
| 9 | Yonatan Belik | 7/11/1989 | 182 | 76 |
| 10 | Lidor Ganon | 21/12/1989 | 184 | 84 |
| 11 | Idan Ben David | 12/12/1989 | 178 | 63 |
| 12 | Tamir Goldberg | 15/07/1986 | 173 | 80 |
| 13 | Luai Shwiqi | 12/01/1992 | 180 | 85 |
| 14 | Abed Abu Raduan | 16/04/1987 | 173 | 75 |
| 15 | Daree Tamimi | 26/10/1987 | 175 | 95 |
| 16 | Sa'ad Barhoum | 6/02/1992 | 178 | 80 |
| 17 | Mohammed Za'arir | 16/11/1989 | 189 | 90 |
| 18 | Osama Albadarin | 8/05/1985 | 169 | 66 |
| 19 | Anas Albadarin | | 178 | 65 |
| 20 | Naseem Almanasra | 10/09/1985 | 185 | 79 |
| 21 | Mohammed Almanasra&nbsp&nbsp | 31/03/1991 | 175 | 75 |
| 22 | Suleiman Alhourani | 29/03/1988 | 182 | 90 |
| 23 | Saji Shamasna | 5/12/1987 | 194 | 110 |
| 24 | Kamal Abu Althom | 25/02/1984 | 188 | 85 |