IC11 Squad - NZ Hawks looking to soar again
Wednesday, August 03 2011 @ 06:57 am ACST
Contributed by: Brett Northey
Views: 4,888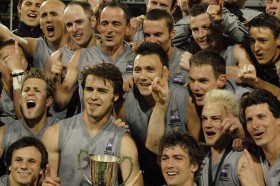 The New Zealand Hawks squad has been named for IC11.
The Kiwis have an impressive history in the International Cup, never finishing lower than 3rd and winning in 2005 (pictured left). It's probably fair to say that they haven't always had the same amount of raw talent across the field that their main competitors Papua New Guinea have, but the Hawks (formerly Falcons) are always fit, strong and well-drilled with excellent structures and some quality key position height.
With the HANZ UP! program in conjunction with the Hawthorn Football Club there's now a new wave of junior talent starting to come through, reflected in the average age of about 23 years. The average height is 184cm (just over 6 foot), with Michael Tagg from Mt Roskill topping the numbers at 196cm (6'5").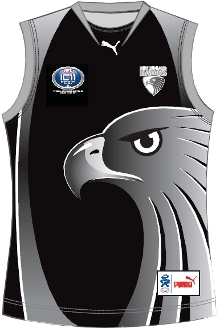 2011 AFL International Cup - New Zealand Hawks squad
Coach - Justin Davies (Cant)
Assistant Coach - Andrew Congalton (Auck)
Assistant Coach - Robert Vanstam (Auck)
Runner - Timothy Stevens (Auck)
Manager - Jarrod Darlington (Auck)
Physiotherapist - Jenny Lucy (Waik)
| No. | Name | Club/Region | D.O.B. | Height (cm) | Weight (kg) |
| --- | --- | --- | --- | --- | --- |
| 1 | Vandyn Hartman | Manurewa Raiders | 5/11/1993 | 170 | 66 |
| 2 | Samiuela Tu'itupou | Manurewa Raiders | 16/07/1993 | 173 | 75 |
| 3 | Rhys Panui-Leth | North Shore Tigers | 7/08/1994 | 190 | 80 |
| 8 | Simon Carden | Mid Ashburton Eagles | 19/08/1988 | 181 | 91 |
| 10 | Chris Mundell | University Blues | 17/08/1985 | 192 | 102 |
| 11 | Charlton Brown | Manurewa Raiders | 16/07/1994 | 187 | 80 |
| 12 | Sam Dickson | Eastern Blues | 28/10/1989 | 192 | 92 |
| 13 | Stanley Chung | Eastern Bulldogs | 20/05/1987 | 172 | 73 |
| 14 | Steven Howard | Mid Ashburton Eagles | 23/10/1986 | 194 | 101 |
| 15 | David Rattenbury | Waitakere Magpies | 16/08/1987 | 183 | 82 |
| 16 | David Cory Toussaint | University Blues | 5/12/1986 | 192 | 87 |
| 17 | Adam Rice | North Shore Tigers | 1/06/1990 | 175 | 72 |
| 18 | Michael Tagg | Mt Roskill Saints | 9/05/1981 | 196 | 85 |
| 19 | Andrew Crighton | North Shore Tigers | 16/02/1988 | 182 | 85 |
| 20 | Andrui Sucu | North Shore Tigers | 26/04/1990 | 188 | 91 |
| 21 | Daniel McGregor | Waitakere Magpies | 29/04/1984 | 187 | 92 |
| 22 | Troy Lavery | Hutt Valley Eagles | 24/02/1992 | 180 | 87 |
| 23 | Aaron Harris | Waitakere Magpies | 4/10/1986 | 187 | 90 |
| 24 | Luke Kneebone | Hamilton Mavericks | 5/11/1983 | 180 | 89 |
| 25 | Justin Clark | University Cougars | 13/12/1989 | 191 | 80 |
| 26 | Richard Bradley | Eastern Blues | 21/11/1981 | 190 | 88 |
| 27 | Andrew Christensen | University Blues VIC | 21/11/1984 | 180 | 77 |
| 28 | Matthew Van Wijk | Manunda Hawks | 12/12/1984 | 172 | 80 |
| 29 | Andrew Marsden | Waitakere Magpies | 23/08/1983 | 182 | 92 |
| 30 | Andrew Howison | Mid Ashburton Eagles | 4/01/1990 | 187 | 90 |
| 31 | Lukas Swart | Eastern Blues | 29/05/1992 | 193 | 84 |
| 32 | Brendan Clark | Pambula Panthers NSW | 26/01/1987 | 190 | 92 |
| 33 | Michael Gregson | Waitakere Magpies | 8/04/1991 | 180 | 70 |
| 34 | Jared Court | Eastern Blues | 31/01/1988 | 179 | 96 |