IC11 Squad - India aiming for first win
Monday, August 01 2011 @ 09:37 am ACST
Contributed by: Ash Nugent
Views: 4,770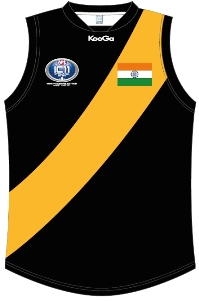 Updated 12 August: Final list and correct player jumper numbers
The India Tigers return in 2011 to contest their second International Cup. Like Ireland, a majority of India's players are Australia-based although in India's case these players are largely inexperienced.
The squad's average age is 24. Most players are from or originally from West Bengal, Kerala or Goa; the "soccer states" of India. Nine players from the 2008 tournament remain in the squad. Making his debut for his country is Srinath Lakshmaiya, who played football in the Welsh Australian Rules Football League. Another possible debut is GWS Academy-listed player Dhruv Kaushik, although he is currently sidelined with an injury.
The squad will be lead by Sudip Chakraborty (Captain) and Vishnu Rishie (Vice Captain).
2011 AFL International Cup - India
Coach: Harmit Singh (Collingwood Magpies Multicultural Officer)
Assistant Coaches: Ashim Dawn (Kolkata) and Drew Grosas (GWS Academy Team Manager)
| No. | Name | Club | D.O.B. | Height (cm) | Weight (kg) |
| --- | --- | --- | --- | --- | --- |
| 13 | Vishnu Rishie | Ashwood Social (Victoria, Australia) | 03/05/1987 | 171 | 64 |
| 27 | Priyank Chokshi | Ashwood Social | 06/09/1986 | 181 | 86 |
| 18 | Prakash Kailasanathan | Ashwood Social | 12/10/1985 | 174 | 73 |
| 5 | Trevor Banerjee | Ashwood Social | 30/04/1979 | 176 | 70 |
| 21 | Fevin Mascarenhas | Ashwood Social | 01/06/1986 | 175 | 79 |
| 30 | Srirangan Giritharan | Ashwood Social | 04/09/1986 | 172 | 85 |
| 16 | Kevin Mascarenhas | Ashwood Social | 24/09/1990 | 170 | 69 |
| 22 | Mayank Shah | Ashwood Social | 03/09/1986 | 177 | 75 |
| 1 | Shezmon Luis Madeira | Ashwood Social | 07/09/1989 | 177 | 70 |
| 14 | Clive Lloyd Vaz | Ashwood Social | 14/02/1986 | 175 | 72 |
| 15 | William Albert Fernandes | Ashwood Social | 10/09/1982 | 178 | 78 |
| 26 | Lance Joseph Fernandes | Ashwood Social | 07/12/1985 | 188 | 93 |
| 7 | Jay Himat | Ashwood Social | 24/10/1992 | 175 | 68 |
| 23 | Kerrydan Flory | Ashwood Social | 23/12/1992 | 184 | 78 |
| 29 | Gavin Pereira | Ashwood Social | 01/10/1983 | 170 | 78 |
| 28 | Dhruv Kaushik | GWS Academy (NSW, Australia) | 12/01/1994 | 183 | 75 |
| 20 | Srinath Paravatham Lakshmaiya | Chennai / Cardiff Panthers (Wales) | 29/09/1985 | 189 | 85 |
| 13 | Sudip Chakraborty | Mumbai | 06/11/1989 | 187 | 93 |
| 10 | Darren Ross | Kolkata | 16/06/1988 | 169 | 65 |
| 24 | Ayush Gupta | Kolkata | 27/10/1989 | 190 | 79 |
| 12 | Mervyn Joseph Nathaniel | Kolkata | 25/07/1987 | 167 | 65 |
| 4 | Rakesh Ghosh | Kolkata | 11/05/1985 | 180 | 69 |
| 8 | Jasim Akhtar | Kolkata | 15/10/1988 | 173 | 67 |
| 11 | Jonathan Michael D'Moore | Kolkata | 13/07/1986 | 181 | 77 |
| 19 | Sudhasil Mitra | Kolkata | 06/11/1989 | 183 | 64 |
| 9 | Donovan Andrew Drozario | Kolkata | 09/09/1986 | 168 | 73 |