IC11 Squad - China hoping to climb
Monday, August 01 2011 @ 08:17 pm ACST
Contributed by: Aaron Richard
Views: 3,278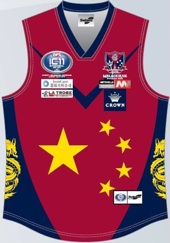 The Chinese Red Demons are making their second IC appearance in 2011, with the bulk of the squad hailing from the Beijing Bombers. The Shanghai Tigers also have a representative in the cadre of 16 players coming over from China.
The rest of the squad have been recruited from Chinese nationals currently residing in Australia, including one each from LaTrobe University (Melbourne) and the University of Adelaide.
The Red Demons faced a steep learning curve at the IC08, eventually breaking through for their first win over fellow debutants India in their last game of the tournament. Captaining the side is Zhang Hao from Beijing. Their inspirational leader Jiaming Pi from the 2008 squad will be back as vice-captain, this time joined by a further five Chinese nationals who play alongside Pi at the Asian community-based Southern Dragons in Melbourne's Southern Football League.
The team's average height is only 178cm, although they have some bigger players in Zhao Liutao at 195cm and the duo of Zhang Wei and Yang Yang, both of whom are 190cm.


Players' names are given in Chinese order, i.e. Surname first, followed by given name.
2011 AFL International Cup - China Red Demons squad
Head Coach: Andrew Loechel
Assistant Coach: Andrew Sawitsch
| No. | Name | DOB | Height (cm) | Weight (kg) | Club |
| --- | --- | --- | --- | --- | --- |
| 1 | Zhang Hao | 12/05/87 | 175 | 65 | Beijing Bombers |
| 2 | Zhao Yonggen | 29/10/85 | 176 | 68 | Beijing Bombers |
| 3 | Yu Wanjun | 19/10/82 | 167 | 70 | Shanghai Tigers |
| 4 | Lu Xishun | 8/05/84 | 170 | 65 | Beijing Bombers |
| 5 | Ding Guanqun | 23/09/88 | 165 | 68 | University of Adelaide (SA) |
| 6 | Pi Jiaming | 16/06/80 | 175 | 85 | Southern Dragons (VIC) |
| 7 | Xu Jian | 23/01/87 | 179 | 80 | Beijing Bombers |
| 8 | Gao Boran | 19/09/89 | 177 | 74 | Beijing Bombers |
| 9 | Yang Ming | 7/07/85 | 184 | 87 | La Trobe University (VIC) |
| 10 | Zhou Min | 3/05/89 | 177 | 75 | Beijing Bombers |
| 11 | Liu Jiahao | 9/02/87 | 180 | 75 | Beijing Bombers |
| 12 | Wang Jihao | 30/01/89 | 177 | 74 | Beijing Bombers |
| 13 | Lu Jian | 13/10/78 | 168 | 70 | Beijing Bombers |
| 15 | Dong Hao | 26/09/89 | 178 | 82 | Beijing Bombers |
| 16 | Qiu Hao | 23/03/88 | 175 | 85 | Southern Dragons (VIC) |
| 17 | Xu Qinghong | 22/09/80 | 171 | 78 | Southern Dragons (VIC) |
| 18 | Liu Ming | 8/10/82 | 184 | 83 | Southern Dragons (VIC) |
| 19 | Lu Hao | 20/02/89 | 188 | 76 | Beijing Bombers |
| 20 | Gao Yang | 28/12/88 | 185 | 82 | Beijing Bombers |
| 21 | Zhang Wei | 16/04/87 | 190 | 85 | Beijing Bombers |
| 22 | Zhao Liutao | 19/04/89 | 195 | 90 | Beijing Bombers |
| 23 | Chen Yongfei | 24/06/82 | 182 | 91 | Southern Dragons (VIC) |
| 24 | Yang Yang | 11/06/87 | 190 | 90 | Southern Dragons (VIC) |
| 25 | Qi Fulong | 15/05/88 | 180 | 90 | Beijing Bombers |