IC11 Preview - Will the Lions be Kings of the Jungle?
Tuesday, August 02 2011 @ 07:35 pm ACST
Contributed by: Brett Northey
Views: 3,608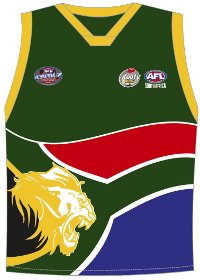 The South African Lions finished 11th in 2002, 8th in 2005 and roared up to 3rd in 2008. Their goal in 2011 is to make the Grand Final and have a crack at winning the tournament. With such a fast rise up the ranks the trajectory suggests that it's certainly possible, but some tough teams stand in their way.
When asked about the likely style the Lions will bring, AFL South Africa Operations Manager Joel Kelly explained that the South Africans have a lot of new players. "The 2011 squad of 28 features 19 new faces and there's no doubt we will benefit from the fact that 3 of our key players have experienced State League footy in Victoria and Tasmania this year – the team is not tall by any standards but does have good leg speed and the skills have improved quite a bit since 2008, so you're more likely to see a 'run and carry' style of game that plays to our strengths".
The Country and Australian Football

The Republic of South Africa is known as the Rainbow Nation as it integrates so much of the cultural spectrum. Estimates vary, but the population is around 51 million and it is steadily, though too slowly for some, building up the standard of living after years of repression. Australian football got its start in South Africa in the 1990s, but then did it tough for some time. But building up to IC08 it became the number one focus for international development, with its relatively cheap costs, abundant population without access to organised sport, and various synergies with business investment. With extra AFL support and a genuine grassroots movement the sport began to flourish.
The game has been branded FootyWILD and grew rapidly in numbers, but over the last few years there has been an effort to consolidate and growth has slowed. A focus has been talent identification and this year's team has been selected from a group that have had dedicated training as an elite squad.
A possible concern would be if the nation doesn't cement its spot in the top 4 footy countries, especially with the sudden rise of talent from the South Pacific region.
Strengths and Weaknesses

South Africa brings a core group of experienced campaigners in players such as Steven Malinga, Benjamin Motuba and Mtutuzeli Hlomela - back after seemingly having left the game. They also have a relatively youthful age profile, averaging around 23 years.
The average height of 177cm indicates a relatively short side. Quality smalls will generally beat average talls, but no players over 190cm is a concern and could leave them a little vulnerable, especially against a side like Ireland that will bring some quality big men.
Arriving in Australia two weeks prior to the tournament could go either way. Their program sees plenty of training and warm up matches against good opposition, which should help them come together as a team really well, but does risk fatigue - by the last round they will have flown from South Africa to Singapore, down to Perth, up to Karratha (about 1500km north), down to Perth again, across to Sydney and then down to Melbourne. No doubt staff will look to carefully manage the load.
Players to watch

Stewart Edge has been working with new AFL club Greater Western Sydney as a Development Coach and will take the reigs with South Africa. The obvious player to watch is Bayanda Sobetwa, who spent a year with GWS.
Edge explained, "Bayanda has been playing with Port Melbourne FC under Chris Johnson in the VFL and will add plenty of strength and knowledge to an exciting Lions group we are hoping will improve on their third placing from 2008".
"Players to watch out for this year include key defender Thembinkosi "Dhino" Zwane from the KZN Eagles, strong mid-fielder Thsobolko Moagi (Gauteng Blues) and key forward Khaya Sikiti (Western Cape Magpies), who have both been playing in the Tasmanian State Football League for South Launceston FC this year," said Edge.
Form Guide and Bottom Line

Joel Kelly explained that, "Our goal is to go one better than 2008 by making the final at the MCG and once you get there anything can happen – we think we have improved significantly in our understanding of the game, but know that everyone else will have improved as well, so it will be interesting to see how we go".
That's probably the key point - South Africa will probably have improved but PNG (47 point winners over the Lions in 2008) and Ireland (1 point losers to the Lions in 2008) both looked to have significantly increased their abilities. The Mozzies have around half their side playing at a high level week-in week-out in Australia, and Ireland have added a host of players with experience on AFL lists or good quality competitions around Australia.
South Africa are seeded 3rd by the AFL (their IC08 finish) and ranked 8th in the worldfootynews.com World Rankings (it takes a solid run of wins to rise from low down). Because of the big improvement in PNG and Ireland it's hard to see the Africans fulfilling their Grand Final dream - this author's tip, the Lions to finish 3rd or 4th.