IC11 Squad - Northwind's youth look to continue rise
Sunday, July 31 2011 @ 08:24 pm ACST
Contributed by: Brett Northey
Views: 3,992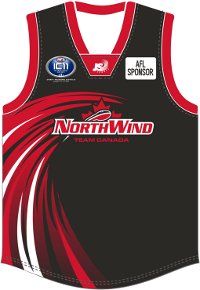 Canada's men are heading for the 2011 AFL International Cup no doubt looking to continue their rise.
The Northwind have finished 9th, 7th and 6th at the 2002, 2005 and 2008 Cups and must have their eye on a semi-final berth, although their competition has not stood still. With youth development underway for quite a few years there has been a steady flow of younger players that have grown up with the game. This should stand the Northwind in good stead, as does the ever strong Ontario league.
The average age of the squad is about 27 years. We don't have the average height because the Canadians have bucked the international trend and supplied the data in feet and inches. But at a glance it does look to be fairly tall, with most players over 6 foot, with the High Park Demons' Dale Simnett topping the list at 6'5".


2011 AFL International Cup - Canada Northwind squad
Head Coach: Jaye Macumber
Assistant Coach: Stuart Grills
| No. | Name | Club/Region | D.O.B. | Height (ft/in) | Weight (pounds) |
| --- | --- | --- | --- | --- | --- |
| 1 | Scott Fleming | West Coast Saints (BC) | 15/02/1990 | 6'3 | 200 |
| 2 | Kien La | Central Blues (ON) | 27/06/1980 | 5'10 | 170 |
| 3 | Edsart Heuberger | Toronto Dingos (ON) | 10/09/1984 | 6'5 | 220 |
| 4 | Clayton Holmes | West Coast Saints (BC) | 19/12/1980 | 5'11 | 170 |
| 5 | Victor Cinco | Central Blues (ON) | 23/10/1992 | 5'11 | 180 |
| 6 | Clayton Lund | Delta BayHawks (ON) | 24/11/1991 | 6'2 | 180 |
| 7 | Paul Loughnane | High Park Demons (ON) | 8/06/1974 | 5'11" | 195 |
| 8 | Pablo Pineda Willis | Broadview Hawks (ON) | 16/07/1986 | 6'1 | 190 |
| 9 | Alex Hendrix | High Park Demons ON) | 11/03/1985 | 5'10 | 170 |
| 10 | Matt Kidd | Calgary Kangaroos(AB) | 1/06/1978 | 5'10 | 180 |
| 11 | Ashley Steier | Vancouver Cougars (BC) | 11/10/1979 | 6'2 | 185 |
| 12 | Jacob Sone | Central Blues (ON) | 12/09/1980 | 6'3 | 205 |
| 13 | Ewan Williams | Central Blues (ON) | 23/05/1980 | 5'9 | 143 |
| 15 | Steve Rutledge | Central Blues (ON) | 13/03/1984 | 6'1 | 195 |
| 16 | Zack MacDonald | Guelph Gargoyles (ON) | 24/03/1987 | 5'11 | 180 |
| 17 | Sean Hayes | West Coast Saints (BC) | 17/12/1975 | 6' | 200 |
| 19 | Dan Isberg | Burnaby Eagles (BC) | 23/10/1985 | 5'6 | 155 |
| 20 | Justin Connie | Delta BayHawks (BC) | 21/10/1991 | 5'11 | 180 |
| 21 | Dale Simnett | High Park Demons (ON) | 18/12/1979 | 6'5 | 235 |
| 22 | Adam Millen | Guelph Gargoyles (ON) | 6/02/1984 | 6' | 195 |
| 23 | Andrew Boyce | Etobicoke Kangaroos (ON) | 16/03/1990 | 5'9 | 174 |
| 24 | Chris Symons | High Park Demons (ON) | 3/09/1979 | 6' | 200 |
| 27 | Matthew Payne | Burnaby Eagles (BC) | 28/02/1991 | 5'11" | 180 |
| 28 | Alex Filipowicz | Guelph Gargoyles (ON) | 19/09/1986 | 5'11 | 185 |
| 31 | Kenny Wong | Central Blues (ON) | 20/06/1989 | 5'7 | 165 |
| 32 | Jared Postance | Central Blues (ON) | 27/11/1975 | 5'10 | 185 |
| 33 | Frank Lussier | Toronto Eagles (ON) | 3/03/1976 | 6'1 | 205 |
| 38 | Justin Settle | Hamilton Wildcats (ON) | 7/12/1984 | 6'1 | 200 |
| 72 | Mike Karas | Toronto Dingos (ON) | 2/08/1983 | 6' | 190 |
| | Kyle Graham | Quebec Saints | 3/05/1980 | 6'1 | 190 |