IC11 Squad - Super Warriors named
Sunday, July 31 2011 @ 07:33 am ACST
Contributed by: Brett Northey
Views: 8,949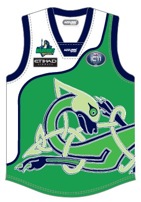 It's official, Ireland has named a super-squad for the 4th International Cup.
Aisake Ó hAilpín is the main addition since our Preview. Consistent rumours and speculation that the Warriors would contain players that had been on AFL lists were put down by the Irish hierarchy until recently and now the full depth of their team has been revealed. Not only does it contain the core of players who went within a kick of 3rd spot in 2008 but it also includes:
Aisake Ó hAilpín - brother of Setanta and although now playing at Maribyrnong Park in Victoria he's 198 cm and spent several years on Carlton's list in the VFL playing for the Northern Bullants
Conor Meredith - now with Aberfeldie in Victoria but previously playing on North Melbourne's list in the VFL playing for Werribee
John Heslin - young gun Gaelic footballer about to join Richmond in the AFL
Alan Coomey - now playing with East Fremantle in the WAFL and winner of ARFLI's Player of the Decade (2000s) award
David Stynes - brother of Melbourne legend Jim and winner with Ireland in 2002
And 8 players currently playing with UTS Bats in Sydney, and further expats, add even more experience in Australian leagues.
This squad now asks the questions - who is favourite for IC11, Papua Guinea or Ireland?
The Warriors have an average height of 188 cm (6'2") and an average age of 29. For some nations that age profile would be a worry with a lack of youngsters pushing through and older players who may only have taken up the game recently. But in this case it probably suggests a very experienced list with many years of quality footy to their credit.
2011 AFL International Cup - Ireland Warriors squad
Coach: Tom Madigan
| No. | Name | Club/Region | D.O.B. | Height (cm) | Weight (kg) |
| --- | --- | --- | --- | --- | --- |
| 1 | Cian Quigley | Leeside Lions | 25/11/1980 | 1.83 | 81 |
| 2 | Aidan Hickey | North Leinster Kangaroos | 7/03/1977 | 1.83 | 81 |
| 3 | Clifford Richardson | North Leinster Kangaroos | | 1.93 | |
| 4 | Fergal McManus | UTS Bats NSW | 5/04/1988 | 1.88 | 90 |
| 5 | John Heslin | Richmond Tigers | 27/06/1992 | 1.87 | 92 |
| 6 | Joe Cunnane | Dublin Demons | 4/12/1971 | 1.95 | 95 |
| 7 | Paul Sharry | North Leinster Kangaroos | 14/01/1989 | 1.9 | 83.5 |
| 8 | Alex Whooley | UTS Bats NSW | 30/05/1979 | 2.01 | 113 |
| 9 | Michael Finn | Heidelberg Tigers Vic | 18/05/1981 | 1.92 | 92 |
| 10 | Fearghal Purcell | UTS Bats NSW | 26/06/1980 | 1.88 | 90 |
| 11 | John Enright | Dublin Demons | 13/04/1980 | 1.85 | 98 |
| 12 | Darren Sheils | South Dublin Swans | 3/12/1981 | 1.79 | 74 |
| 13 | Barry Holland | UTS Bats NSW | 13/03/1982 | 1.8 | 78 |
| 14 | Roch Hanmore | UTS Bats NSW | 14/02/1984 | 1.92 | 90 |
| 15 | Philip Bredin | UTS Bats NSW | 12/08/1977 | 1.86 | 91 |
| 16 | David McElhone | Belfast Redbacks | 28/01/1988 | 1.84 | 82.5 |
| 17 | Larry Kavanagh | St Marys NT | 7/11/1977 | 2.01 | 97 |
| 18 | Manus Breathnach | South Dublin Swans | 24/01/1980 | 1.91 | 100 |
| 19 | Eoin Ó Súileabháin | Leeside Lions | 16/06/1984 | 1.8 | 82.5 |
| 20 | Niall McDonagh | Manly-Warringah Wolves NSW | 27/12/1979 | 1.88 | 88 |
| 21 | Joe Rocks | Belfast Redbacks | 24/04/1988 | 1.85 | 70 |
| 22 | James Flavin | Utrecht Saints/ Netherlands | 17/11/1979 | 1.83 | 85 |
| 23 | David Coffey | UTS Bats NSW | 21/12/1982 | 1.93 | 100 |
| 24 | James O' Byrne | South Dublin Swans | 12/01/1978 | 1.91 | 95 |
| 25 | Sean McGuinness | UTS Bats NSW | | | |
| 26 | John Tierney | Dublin Demons | 22/08/1982 | 1.83 | 99 |
| 27 | Gerard Walls | Belfast Redbacks/ Moorabbin Kangaroos Vic | 4/06/1982 | 1.92 | 94 |
| 28 | Kevin O' Brien | Whitfords FC WA | 1/02/1984 | 1.81 | 80 |
| 29 | Conor Meredith | Aberfeldie Vic | 8/05/1989 | 1.86 | 86 |
| 30 | Alan Coomey | East Fremantle WA | 25/06/1984 | 1.86 | 92 |
| 34 | David Stynes | Moorabbin Kangaroos Vic | 19/07/1977 | 1.86 | 93 |
| 35 | Aisake Ó hAilpín | Maribyrnong Park Vic | 24/08/1984 | 1.98 | 92 |
| 40 | Michael Carey | Sydney University NSW | 14/08/1983 | 1.77 | 76 |
| 42 | Brendan Nannery | West Preston Lakeside Vic | 2/03/1986 | 1.92 | 93 |
| 45 | Gerard Lenihan | Kenmore Bears Qld | 25/01/1984 | 1.86 | 85 |