IC11 Squad - France Bleus on début
Thursday, July 28 2011 @ 07:50 am ACST
Contributed by: Brett Northey
Views: 4,920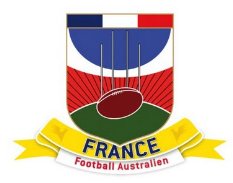 The French Bleus are attending the International Cup for the first time.
The squad has a relatively experienced average age of 26, with Sébastien Artus and widely travelled Pàll Thomas Finnsson both 36. The youngest player is Jory Giner from the club in Strasbourg. They average 180 cm (5'11") and although there are no "streaks" they do have four players in the 190s.
The crucial match will be their seeding game against Tonga, also at their first International Cup (at least, in the main draw) - the winner is likely to go through to Division One and a guaranteed top 12 finish, a great result for either team on debut.
2011 AFL International Cup - France Coqs squad
Coach: Cyril Talon
| No. | Name | Club | D.O.B. | Height (cm) | Weight (kg) |
| --- | --- | --- | --- | --- | --- |
| 1 | Alban Schieber | Bordeaux Bombers | 3/01/1988 | 178 | 84 |
| 2 | Bertrand Lejeune | Paris Cockerels | 13/11/1980 | 172 | 65 |
| 7 | Thomas Urban | Toulouse Hawks (Fr) / Coolangatta Blues (Aus) | 26/10/1983 | 170 | 78 |
| 9 | Wilfried Houvion | Paris Cockerels | 14/11/1990 | 175 | 70 |
| 10 | Sébastien Artus | Paris Cockerels | 10/04/1975 | 179 | 92 |
| 11 | James-Robert Theis | Toronto Rebels (Can) | 3/05/1982 | 194 | 98 |
| 12 | Pierre Labigang | Parkside (Aus) | 6/06/1985 | 184 | 90 |
| 13 | Grégoire Patacq | Toulouse Hawks (Fr) / Robinvale Eagles (Aus) | 5/01/1988 | 194 | 95 |
| 16 | Loïc Besnard | Bordeaux Bombers | 16/04/1986 | 185 | 80 |
| 17 | Jory Giner | Strasbourg Kangourous | 18/11/1991 | 179 | 95 |
| 18 | Cyril Talon | Paris Cockerels | 4/05/1977 | 187 | 87 |
| 21 | Alliot-Marty Yoann | Bordeaux Bombers | 21/05/1987 | 179 | 71 |
| 22 | Pascal Ivorra | Bordeaux Bombers | 1/03/1988 | 168 | 60 |
| 23 | Jérôme Fournier | Paris Cockerels | 17/10/1991 | 176 | 75 |
| 24 | Jean-François Bouron | Paris Cockerels | 6/06/1984 | 190 | 90 |
| 25 | Romain Bonnay | Paris Cockerels | 5/09/1986 | 187 | 90 |
| 26 | Grégory Brétière | Montréal Saints (Can) | 9/08/1976 | 174 | 73 |
| 31 | Mickaël Trividic | Bordeaux Bombers | 31/10/1989 | 190 | 78 |
| 33 | Frédéric Zohar | Bordeaux Bombers | 9/09/1977 | 168 | 71 |
| 36 | Nicolas Campo | Mont Lawley Hawks (Aus) | 28/10/1980 | 179 | 82 |
| 45 | Jean-Camille Foirien | Bordeaux Bombers | 11/08/1986 | 186 | 89 |
| 51 | Charly Vanni | North Melbourne Bats (Aus) | 13/04/1983 | 172 | 60 |
| 54 | William Tessier | Montréal Saints (Can) | 7/02/1990 | 185 | 80 |
| 64 | Clément Charlet | Paris Cockerels | 27/06/1981 | 189 | 87 |
| 71 | Emilien Martinez | Toulouse Hawks | 23/04/1986 | 178 | 70 |
| 97 | Jan-Mahamad Cyril | Toulouse Hawks (Fr) / Robinvale Eagles (Aus) | 21/02/1986 | 172 | 75 |
| 98 | Ludovic Galiana | Toulouse Hawks | 25/10/1984 | 182 | 73 |
| | Pàll Thomas Finnsson | Paris Cockerels | | 180 | 82 |