IC11 Squad - Can the Revolution wind back the clock?
Wednesday, July 27 2011 @ 08:09 pm ACST
Contributed by: Brett Northey
Views: 3,986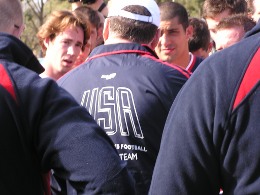 The United States' national squad is headed for Australia determined to break back into the top 4 after slipping out in 2008. The squad features plenty of familiar names from past Revolution campaigns, as well as new talent.
The oldest player is Minnesota's Jason Becker at 43, no doubt a key factor in his longevity being his height at 196 cm (6'5") in a relatively short US squad (by American standards) that has only one other major tall in LA's Bryan Dragus at 198 cm (6'6"). The average height is still a very respectable 183 cm (6 foot).
The average age is a mature 29. The youngest players are 23 year olds Ryan Sutherland, also from Minnesota, and Eric Floyd from Louisville. That's a sign of the Americans' major strength and weakness - it generally serves up a tough, physical brand of footy with mature bodies, but a widespread junior program still eludes them which means there aren't the numbers of exciting youth coming through that we see amongst their rivals in the top echelons of international footy. As such expect a very honest effort but the pace might be too hot at the pointy end.
2011 AFL International Cup - USA Revolution squad
Coach: Matthew Bishop
Assistants: Jason Becker, Denis Ryan
| No. | Name | Club | D.O.B. | Height (cm) | Weight (kg) |
| --- | --- | --- | --- | --- | --- |
| 1 | Jacob Moyer | Baltimore Washington Eagles | 27/12/1981 | 173 | 69 |
| 2 | Ryan McGettigan | Philadelphia Hawks | 23/01/1984 | 180 | 84 |
| 3 | Brandon Blankenship | San Diego Lions | 2/02/1981 | 183 | 77 |
| 4 | Andy Vanica | Denver Bulldogs | 4/03/1978 | 172.5 | 73.5 |
| 5 | Paul Duncan | North Carolina Tigers | 25/11/1984 | 188 | 86 |
| 6 | Adonias Lucero | San Diego Lions | 7/04/1970 | 188 | 102 |
| 7 | Jon Loring | Philadelphia Hawks | 2/02/1978 | 183 | 75 |
| 8 | Dan Sarbacker | Milwaukee Bombers | 16/06/1979 | 178 | 72 |
| 9 | Jesse Leos | Austin Crows | 25/09/1986 | 178 | 79 |
| 10 | Melvin Chen | Golden Gate Roos | 31/12/1981 | 175 | 79.5 |
| 11 | Chris Candelaria | Denver Bulldogs | 5/04/1978 | 183 | 81.5 |
| 12 | Brent Mergen | Minnesota Freeze | 14/05/1986 | 188 | 86 |
| 13 | Saleh Tyebjee | Golden Gate Roos | 22/04/1985 | 188 | 79.5 |
| 14 | Patrick Miller | Philadelphia Hawks | 12/12/1980 | 183 | 92 |
| 15 | Kyle Johnson | Golden Gate Roos | 19/04/1987 | 185 | 82 |
| 16 | Andrew Werner | Minnesota Freeze | 28/02/1986 | 188 | 87.5 |
| 17 | Andrew Price | Louisville Kings | 4/11/1986 | 185 | 93 |
| 17 | Eric Floyd | Louisville Kings | 26/02/1988 | 183 | 83.5 |
| 18 | Bryan Dragus | Los Angeles Dragons | 6/10/1985 | 198 | 92 |
| 19 | Ryan Sutherland | Minnesota Freeze | 19/07/1988 | 172 | 79 |
| 20 | Zach Weaver | Minnesota Freeze | 27/01/1986 | 188 | 84 |
| 21 | Luke Nemeth | Nashville Kangaroos | 14/11/1977 | 185 | 87 |
| 22 | Justin Valley | San Diego Lions | 20/03/1982 | 185 | 106 |
| 23 | Noor Jehangir | Austin Crows | 16/08/1985 | 173 | 77 |
| 25 | Richard Wheelock | Baltimore Washington Eagles | 15/12/1979 | 180 | 87 |
| 27 | Jason Becker | Minnesota Freeze | 26/05/1968 | 196 | 91 |
| 28 | Brandon Bludau | Baltimore Washington Eagles | 22/08/1983 | 183 | 84 |
| 29 | Jason Newquist | Denver Bulldogs | 5/04/1983 | 188 | 91 |
| 42 | Matthew Jagger | St. Louis Blues | 6/09/1977 | 187 | 95 |
| 44 | Steve Fashant | Minnesota Freeze | 12/07/1987 | 183 | 84 |
| 83 | Ryan Kastl | Seattle Grizzlies | 29/12/1983 | 185 | 84 |