IC11 Squad - Viking youth are ready to plunder
Wednesday, July 27 2011 @ 07:50 am ACST
Contributed by: Brett Northey
Views: 4,347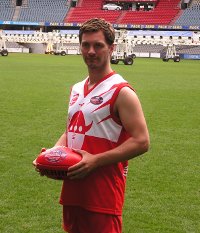 Denmark return for the third time out of four International Cups. Long lauded as having the most advanced junior program in Europe, the Danes will be keen to start putting results on the board. An impressive runners-up at the 2010 European Championships suggests the team is on the right path.
The Vikings' squad has a reasonably tall average height at nearly 184 cm, although only one really tall player in Michael Neugebauer at 198 cm (6'6"), who has been playing for the Fitzroy Reds in Victoria. As usual the majority of the Danes come from the successful Farum Cats club on the island of Zealand (home to the capital Copenhagen).
There's also a good mix of players from other clubs and a couple based in other countries, in René Damborg Jensen (Norway) and Páll Tómas Finnsson (France), as well as Neugebauer. The average age is 26.
2011 AFL International Cup - Denmark Vikings squad
Coach: James Campion
Assistants:
| No. | Name | Club/Region | D.O.B. | Height (cm) | Weight (kg) |
| --- | --- | --- | --- | --- | --- |
| 14 | Troels Ottesen | Farum Cats/ Zealand | 10/04/1985 | 186 | 87 |
| | Simon Oliver Malone | Farum Cats/ Zealand | 12/03/1991 | 192 | 85 |
| | Jonas Starbæk Nielsen | Randers Dockers/ Jutland | 24/05/1991 | 190 | 85 |
| | René Damborg Jensen | Oslo Crows/ Norway | 3/06/1981 | 171 | 75 |
| | Thomas Jørgensen | Copenhagen Crocodiles/ Zealand | 29/11/1988 | 188 | 83 |
| 10 | Morten Laurberg Rindom | Farum Cats/ Zealand | 1/02/1979 | 180 | 81 |
| | Jens Djernes | Randers Dockers/ Jutland | 24/02/1989 | 190 | 95 |
| 11 | Bjarke Lauritzen | Farum Cats/ Zealand | 17/08/1985 | 181 | 83 |
| 6 | Thore Lauritzen | Farum Cats/ Zealand | 15/04/1989 | 180 | 88 |
| 3 | Nathan Campion | Farum Cats/ Zealand | 28/12/1991 | 189 | 82 |
| 1 | Chris Campion | Farum Cats/ Zealand | 12/02/1989 | 179 | 77 |
| 5 | Jonas Holstein | North Copenhagen Barracudas/ Zealand | 3/05/1975 | 183 | 83 |
| | Kasper Sallander | North Copenhagen Barracudas/ Zealand | 15/08/1986 | 190 | 85 |
| 45 | Mathias Biron | Farum Cats/ Zealand | 7/06/1992 | 179 | 74 |
| 13 | Christian Mau Rose | Farum Cats/ Zealand | 18/03/1980 | 180 | 80 |
| 22 | Michael Georg Jensen | Farum Cats/ Zealand | 16/06/1981 | 192 | 95 |
| | Joachim Secher | Farum Cats/ Zealand | | 178 | 70 |
| | Jan Petersen | Randers Dockers/ Jutland | 3/11/1982 | 194 | 90 |
| | Aksel Wedel Bang | Aalborg Kangaroos/ Jutland | 9/08/1991 | 170 | 70 |
| | Kristian Stetter | Aalborg Kangaroos/ Jutland | 12/12/1976 | 180 | 90 |
| | Mikkel Norlander | Farum Cats/ Zealand | 13/11/1974 | 176 | 80 |
| 20 | Morten Merhøj | Farum Cats/ Zealand | 4/09/1991 | 180 | 80 |
| | Morten Engsbye | Farum Cats/ Zealand | 20/10/1986 | 182 | 75 |
| | Michael Neugebauer | Fitzroy Reds/ VIC | 22/02/1983 | 198 | 88 |