IC11 Squad - Bulldogs barking a new tune
Tuesday, July 26 2011 @ 10:27 pm ACST
Contributed by: Brett Northey
Views: 5,181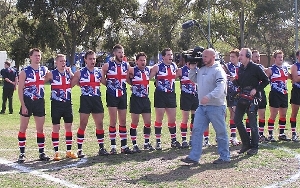 Great Britain's IC11 squad has a very fresh look, with very few players (we believe two) that represented them at IC08. As discussed in our preview, the Bulldogs are increasingly drawing on players spread across Britain, not just relying on players out of London.
Like Ireland the Brits have several players who are currently playing in Australia, although not the extremely large numbers of their neighbours. Unlike some of their opponents the Bulldogs have some very tall players that should give them good structure around key positions and in many matches first tap at ball ups. Two players (Anthony Trigg and Chris James) are 205 cm (nearly 6'9") and six are in the 190s. Compare that with Japan that has no one over 186 cm - so that's at least a 19 cm (7 inch) advantage in ruck (not including reach) if these two teams meet. The average height is 185 cm (nearly 6'1") which makes this one of the tallest squads at IC11. The average age is nearly 27.
In the past a problem for the Bulldogs has been that players that are used to playing on the fringes around Aussies in AFL London were asked to step up to key positions at the International Cup. This should be less of a problem with more players from regional areas, and their recent competitive performances against Ireland suggest an improvement. On the flipside Ireland will be greatly strengthened by their expats in Australia and Britain struggled at the European Championships. Expect a competitive effort from a new look side but probably lacking the edge needed to break into the top four spots.
2011 AFL International Cup - Great Britain Bulldogs squad
Coach: Mark Pitura
Assistants: Robert Fielder
| No. | Name | Club | D.O.B. | Height (cm) | Weight (kg) |
| --- | --- | --- | --- | --- | --- |
| 1 | Luke Matias | Caulfield Grammarians (VIC) | 28/12/1987 | 185 | 87 |
| 2 | Lee Tarn | Chippenham Redbacks | 10/07/1987 | 198 | 91 |
| 3 | Will Worthington | Onkaparinga Valley Bulldogs (SA) | 19/03/1986 | 175 | 81 |
| 4 | Anthony Trigg | Maribyrnong Park Lions (VIC) | 21/08/1988 | 205 | 95 |
| 5 | Matt Whiteley | Huddersfield Rams | 29/07/1986 | 185 | 85 |
| 6 | Ian Mitchell | Wolverhampton Wolverines | 16/02/1984 | 180 | 82 |
| 7 | Tom Judson | Caulfield Grammarians (VIC) | 13/04/1987 | 183 | 83 |
| 8 | Rob Harmeston | Putney Magpies | 17/05/1979 | 190 | 87 |
| 9 | Tom Case | Chippenham Redbacks | 9/11/1978 | 183 | 83 |
| 10 | Perry Wild | Wandsworth Demons | 8/05/1986 | 193 | 78 |
| 11 | Ross Ashman | Wimbledon Hawks | 3/06/1986 | 185 | 86 |
| 12 | Ben O'Brien | West London Wildcats | 13/08/1981 | 183 | 85 |
| 13 | Paul Francis | Wimbledon Hawks | 10/03/1979 | 172 | 70 |
| 14 | Brendan McGeever | North London Lions | 26/06/1981 | 184 | 94 |
| 15 | Paul Harris | Putney Magpies | 31/05/1972 | 178 | 86 |
| 16 | Chris James | Cardiff Panthers | 4/12/1983 | 205 | 90 |
| 17 | Paul Barry | Dianella Morley (WA) | 1/05/1974 | 174 | 75 |
| 18 | Tim Atkins | Swansea Magpies | 17/03/1990 | 175 | 65 |
| 19 | Tom Mercer | Putney Magpies | 10/10/1988 | 181 | 76 |
| 20 | Mark Todd | Putney Magpies | 12/12/1988 | 171 | 69 |
| 21 | Sean Walton | Birmingham Bears | 14/05/1989 | 181 | 75 |
| 22 | Gareth Blackstaffe-Turner | Wimbledon Hawks | 16/06/1986 | 183 | 92 |
| 23 | Martyn Hinchey | Southampton Titans | 27/12/1987 | 195 | 88 |
| 24 | Harry Triggs | West London Wildcats | 21/11/1979 | 196 | 100 |
| 25 | Joe Watkins | Wimbledon Hawks | 24/01/1989 | 185 | 91 |
| 26 | Alasdair Lindop | Manchester Mosquitoes | 26/07/1982 | 180 | 78 |
| 27 | Adam Ballard | Durham Saints | 17/05/1987 | 194 | 96 |