IC11 Squad - Our Airline Chiefs would be kings
Monday, July 25 2011 @ 07:30 pm ACST
Contributed by: Brett Northey
Views: 4,183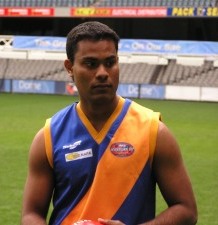 Nauru were perhaps the biggest surprises at IC08. With footy in disarray in the tiny nation for several years before the tournament, not much was expected. But after an opening round loss to eventual winners PNG the Chiefs didn't lose another game, finishing 5th overall.
This time around other teams will know what to expect but Nauru should still perform very well and would be looking to break into the semi finals. 2008 coach Wes Illig moves into an assistant role as the Bendigo Bombers' football manager (VFL) Graham Pratt takes the reigns.
We'll also get our first look at senior level of GWS Giants scholarship player Yoshi Harris. Overall the team lacks some height with the average at 174 cm (5'9") and no one over 182 cm (6 foot), which surely spells trouble in ruck, but the age profile shows a good mix of experience and youth, with an average of about 24 years.
2011 AFL International Cup - Our Airline Nauru Chiefs squad
Coach: Graham Pratt
Assistant: Wes Illig
| No. | Name | Club | D.O.B. | Height (cm) | Weight (kg) |
| --- | --- | --- | --- | --- | --- |
| 1 | Snuka Adire | Barracudas/ Anetan | 26/08/1986 | 176 | 81 |
| 2 | Derio Namaduk | Skipjacks/ Ewa | 2/09/1987 | 167 | 84 |
| 3 | Febriano Baguga | Stingrays/ Meneng | 19/02/1982 | 162 | 71 |
| 4 | Jude Cook | Barracudas/ Yaren | 15/08/1986 | 176 | 82 |
| 5 | Otto Adam | Dolphins/ Yaren | 11/03/1989 | 168 | 83 |
| 6 | Deiri Cook | Sharks/ Aiwo | 28/09/1983 | 174 | 78 |
| 7 | JimzanYoshi Harris | Skipjacks/ Boe District | 20/02/1994 | 182 | 89 |
| 8 | Kingston Ika | Barracudas/ Anetan | 7/11/1990 | 174 | 80 |
| 9 | Maska Hubert | Dolphins/ Denigomodu | 22/04/1980 | 164 | 68 |
| 10 | Maverick Batsiua | Marlins/ Boe | 27/12/1986 | 170 | 77 |
| 11 | Johnny Dagiaro | Stingrays/ Boe | 11/09/1988 | 172 | 84 |
| 12 | Donatello Moses | Barracudas/ Aiwo District | 23/07/1993 | 171 | 66 |
| 13 | Reason Satto | Dolphins/ Boe | 24/05/1987 | 176 | 75 |
| 14 | Trent Depaune | Marlins/ Buada | 19/10/1985 | 182 | 90 |
| 15 | Nash Starr | Stingrays/ Boe | 17/05/1987 | 171 | 79 |
| 16 | Timothy Teabuge | Sharks/ Boe | 14/10/1983 | 181 | 82 |
| 17 | Ralph Teimitsi | Stingrays/ Uaboe | 24/01/1983 | 174 | 89 |
| 18 | Mallinson Batsiua | Sharks/ Boe | 26/06/1988 | 171 | 80 |
| 19 | Zac Temaki | Sharks/ Meneng | 16/10/1984 | 171 | 82 |
| 20 | Jose Uepa | Sharks/ Ewa | 17/10/1986 | 175 | 89 |
| 21 | Brendan Waidabu | Stingrays/ Anabar | 22/01/1987 | 180 | 83 |
| 22 | Tiana Waidabu | Sharks/ Anabar | 8/06/1988 | 181 | 82 |
| 23 | Kabureta Dannang | Sharks/ Anetan | 2/03/1989 | 180 | 88 |
| 24 | Robroy Grundler | Skipjacks/ Uaboe | 19/01/1985 | 175 | 68 |
| 25 | Kamtaura Kamtaura | Marlins/ Ewa | 27/09/1988 | 176 | 70 |
| 26 | Robby Deireregea | Skipjacks/ Anabar | 21/08/1986 | 178 | 95 |