IC11 Squad - Sakaki's Samurais on a mission
Sunday, July 24 2011 @ 08:25 pm ACST
Contributed by: Brett Northey
Views: 3,805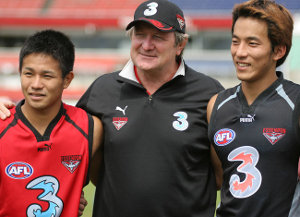 The Samurais for 2011 are strong in number (36 players named) and are lead by Michito Sakaki (pictured far left), who trained with Essendon back in 2008. Japan have been present at all International Cups but unfortunately that doesn't always translate into experience, with a high turnover as their mainly University-based players head off to careers. However this team isn't quite so young and does feature several players who have spent time playing in Australia including the excellent Box Hill North exchange program.
As we've come to expect, Japan will field a relatively short team, with the average height being 176 cm (5'9"). In fact, the typical player is not that small, but there are no tall key position players. The average age is about 23.
Of course it's simply a tremendous effort for the Samurai to attending the 2011 Australian Football International Cup given what a terrible year the country has had with the devastating tsunami and associated nuclear disaster. It's a cliché but just being there makes them winners.
2011 AFL International Cup - Japan Samurais squad
Coach: Dan Jenkins
Assistants: Jun Sekiguchi
| No. | Name | Club | D.O.B. | Height (cm) | Weight (kg) |
| --- | --- | --- | --- | --- | --- |
| 1 | Masaya Nakamura | Komazawa Magpies/Tokyo | 9/06/1989 | 177 | 77 |
| 2 | Kohei Kageyama | Box Hill North / VIC | 13/06/1991 | 182 | 80 |
| 3 | Shotaro Tada | Komazawa Magpies/Tokyo | 27/11/1990 | 177 | 89 |
| 4 | Junji Tanaka | Eastern Hawks/Tokyo | 1/09/1982 | 183 | 90 |
| 5 | Hayata Ono | Senshu Powers/Tokyo | 7/02/1990 | 180 | 70 |
| 6 | Yuki Saito | UTS Bats/NSW | 21/10/1984 | 180 | 82 |
| 7 | Kazuki Ohashi | Senshu Powers/Tokyo | 5/06/1987 | 170 | 68 |
| 8 | Yosuke Kuno | Eastern Hawks/Tokyo | 12/07/1983 | 182 | 80 |
| 9 | Shinichi Tanaka | Eastern Hawks/Tokyo | 23/05/1983 | 173 | 68 |
| 10 | Hiroki Ichinose | Komazawa Magpies/Tokyo | 1/10/1990 | 175 | 70 |
| 11 | Yuki Akita | Modbury Hawks/SA | 13/07/1986 | 172 | 60 |
| 12 | Michito Sakaki | Yokohama Aoba/Yokohama | 19/05/1983 | 166 | 68 |
| 13 | Ken Sato | Komazawa Magpies/Tokyo | 9/02/1991 | 186 | 75 |
| 14 | Ryosuke Aoyama | Osaka Dingoes/Osaka | 14/07/1984 | 172 | 68 |
| 15 | Shota Chikushi | Tokyo Leopards/Tokyo | 27/08/1989 | 170 | 55 |
| 16 | Ryosuke Hosomi | Osaka Dingoes/Osaka | 17/02/1981 | 184 | 65 |
| 17 | Toshiki Matsuhashi | Komazawa Magpies/Tokyo | 13/02/1985 | 171 | 70 |
| 18 | Tsuyoshi Kase | Eastern Hawks/Tokyo | 25/07/1982 | 179 | 74 |
| 19 | Hirotaka Mitsubayashi | Tokyo Leopards/Tokyo | 18/06/1990 | 177 | 66 |
| 20 | Takashi Kamada | Tokyo Leopards/Tokyo | 16/06/1990 | 177 | 70 |
| 21 | Raku Shimokawa | Parkside Magpies/VIC | 12/12/1989 | 173 | 73 |
| 22 | Naoto Suganuma | Komazawa Magpies/Tokyo | 23/01/1991 | 178 | 80 |
| 23 | Takaaki Seto | Eastern Hawks/Tokyo | 14/10/1982 | 170 | 68 |
| 24 | Juri Nozaki | Osaka Dingoes/Osaka | 7/01/1987 | 180 | 99 |
| 25 | Hisayoshi Oura | Komazawa Magpies/Tokyo | 13/04/1992 | 173 | 80 |
| 26 | Takuma Oshikawa | Komazawa Magpies/Tokyo | 1/06/1991 | 168 | 53 |
| 27 | Yasuhiro Takamiya | Eastern Hawks/Tokyo | 17/07/1984 | 178 | 90 |
| 28 | Kenichiro Hayashi | Eastern Hawks/Tokyo | 27/12/1977 | 173 | 74 |
| 29 | Mitsugu Kazawa | Komazawa Magpies/Tokyo | 27/12/1992 | 164 | 60 |
| 30 | Takumi Sato | Senshu Powers/Tokyo | 10/06/1991 | 172 | 74 |
| 31 | Daichi Tanabe | Senshu Powers/Tokyo | 11/01/1993 | 181 | 70 |
| 32 | Katsuto Ikeda | Senshu Powers/Tokyo | 9/03/1991 | 175 | 78 |
| 33 | Kunpei Komura | Senshu Powers/Tokyo | 24/04/1990 | 173 | 75 |
| 34 | Yu Tamaki | Senshu Powers/Tokyo | 25/03/1993 | 174 | 70 |
| 35 | Hirohito Terasawa | Komazawa Magpies/Tokyo | 1/10/1992 | 183 | 95 |
| 36 | Kai Yoshihara | Senshu Powers/Tokyo | 24/08/1986 | 184 | 75 |