IC11 Squad - first look at youthful Fiji
Sunday, July 24 2011 @ 09:48 am ACST
Contributed by: Brett Northey
Views: 3,868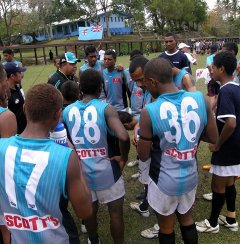 The Fiji Tribe has been named for IC11. Making their debut at senior level, the squad is dominated by youth, with an average age of just 20 years. Many of the youngsters from their recent youth sides (pictured at left) are included in the team.
Coached by Lawrie Woodman (AFL) and Glen Butler (AusAID Development Officer), people will be keen to see if the team brings with it the athleticism seen in players such as Nic Naitanui (West Coast Eagles). The side is by no means filled with giants, with only four players registering in the 190+cm range (6'3") and an average height less than 183 cm (6 foot). But if that quartet are solid players and can fill key positions then it should give the Tribe a good structure to build their running game around.
See IC11 Preview - The Tribe is calling... from Fiji for a review of the team's chances.
2011 AFL International Cup - Fiji Tribe squad
Coach: Lawrie Woodman
Assistant: Glen Butler
| No. | Name | Club | D.O.B. | Height (cm) | Weight (kg) |
| --- | --- | --- | --- | --- | --- |
| 20 | Akuila Tabualevu | Fiji Kangaroos/Suva | 10/02/1994 | 184 | 82 |
| 19 | Alipate Bevu | Fiji Kangaroos/Suva | 2/04/1991 | 183 | 73 |
| 10 | Alipate Navuso | Fiji Kangaroos/Suva | 16/01/1985 | 181 | 85 |
| 5 | Anasa Brown | Fiji Kangaroos/Suva | 22/11/1987 | 176 | 85 |
| 32 | Atunaisa Lewanavanua | Fiji Kangaroos/Suva | 26/09/1983 | 198 | 85 |
| 1 | Benny Rokotuitai | Fiji Kangaroos/Suva | 24/07/1985 | 171 | 82 |
| 4 | Viliame 'Bill' Tuni | Fiji Kangaroos/Suva | 1/12/1993 | 171 | 75 |
| 6 | Eroni Kaikaivalu | Fiji Kangaroos/Suva | 17/08/1988 | 177 | 88 |
| 11 | Frank Stolz | Fiji Kangaroos/Suva | 6/02/1988 | 178 | 82 |
| 17 | George Kasami | Fiji Kangaroos/Suva | 30/06/1993 | 180 | 81 |
| 29 | Jeffery Pauli | Fiji Kangaroos/Suva | 24/06/1993 | 190 | 78 |
| 28 | Joji Kapiteni | Fiji Kangaroos/Suva | 1/11/1992 | 188 | 81 |
| 26 | Jonathan Chongkit | Fiji Kangaroos/Nadi | 25/04/1993 | 186 | 84 |
| 16 | Josua Soromaiwasa | Fiji Kangaroos/Suva | 10/10/1988 | 178 | 75 |
| 21 | Josua Drokanakawai | Fiji Kangaroos/Suva | 29/06/1989 | 182 | 76 |
| 15 | Kameli Yacalevu | Fiji Kangaroos/Suva | 14/07/1984 | 176 | 90 |
| 30 | Laijiasa Bolenaivalu | Fiji Kangaroos/Suva | 27/01/1993 | 190 | 96 |
| 12 | Matthew James | Fiji Kangaroos/Suva | 15/05/1990 | 174 | 70 |
| 23 | Mesake Koroi jnr | Fiji Kangaroos/Suva | 14/12/1991 | 180 | 84 |
| 22 | Paula Bilitaki | Fiji Kangaroos/Suva | 19/12/1986 | 183 | 78 |
| 7 | Richard Niulevu | Fiji Kangaroos/Nausori | 11/04/1994 | 176 | 76 |
| 25 | Ross Vasukilagi | Fiji Kangaroos/Suva | 26/03/1992 | 186 | 80 |
| 2 | Semiti Mateiwai | Fiji Kangaroos/Suva | 14/07/1992 | 170 | 75 |
| 24 | Solomone Loki | Fiji Kangaroos/Nausori | 12/01/1992 | 186 | 84 |
| 13 | Solomoni Navuso | Fiji Kangaroos/Suva | 15/04/1994 | 179 | 77 |
| 3 | Sulio Magiti | Fiji Kangaroos/Suva | 8/10/1991 | 166 | 70 |
| 31 | Timoci 'Jim' Tuinasakea | Fiji Kangaroos/Suva | 18/01/1992 | 194 | 85 |
| 5 | Wilson Kacivi | Fiji Kangaroos/Suva | 8/07/1995 | 170 | 80 |
| 9 | Semesa Salavou | Fiji Kangaroos/Suva | 19/04/1994 | 179 | 78 |
| 8 | Kitione Cakacaka | Fiji Kangaroos/Suva | 16/02/1991 | 177 | 83 |
| 18 | Max Wolfgramm | Fiji Kangaroos/Suva | 24/03/1991 | 181 | 95 |
| 27 | Dylan Wolfgramm | Avondale Heights/VIC | 18/11/1992 | 176 | 78 |
| 27 | Chris Cakobau | St. Josephs Nudgee College/QLD | 24/06/1994 | 189 | 80 |