Aussie talent all class on African footy's big day
Wednesday, April 18 2007 @ 02:49 am ACST
Contributed by: Brett Northey
Views: 13,378

| | |
| --- | --- |
| | As expected the Australian under 17s squad has handed the South Africans a footy lesson in the first official Aussie Rules clash between the two proud sporting nations. Of course from the Africans' point of view that was exactly what they were there for - to learn more about the game from the cream of Australia's junior footballers. As new AFL South Africa Operations Manager Joel Kelly remarked in his review of the clash, the Aussies' form "was to be expected from a group of young men, many of whom will be at AFL clubs in the next year or two". More importantly the launch throughout the tour of FootyWild, the African equivalent of Auskick, was reportedly a great success and marks the start of what is planned to be a massive acceleration of development across the country. Many thanks to Joel for contributing information and photos for this report. |
Saturday 14th April 2007 may be remembered as the day that the global push of Australian Football really took off - only time will tell. That isn't to under-estimate the significant progress in countries such as Papua New Guinea, New Zealand and the United States, to name just a few. But the overall scale of plans for South Africa and the speed at which they might be carried out could redefine the way in which footy going international is viewed, at least by the typical AFL fan back in Australia.
Opening the day's proceeding at AFLSA's home ground, Sedgars Park (North West Cricket Stadium), were over 300 young South Africans aged 8 to 16 taking part in the new FootyWild introduction to Australian Football. Next were curtain-raisers featuring Under 16's wearing the colours of AFL Clubs - Fremantle (North West), West Coast Eagles (Kwa Zulu Natal) and Collingwood (Western Cape), each of which has fostered a Province as part of the push to expand the game into a truly national sport. (Every international footy fan might well ask themselves if their AFL club is helping grow the game?)
The main event was then dominated by the Australian Institute of Sport Under 17 side. Their opposition, the South African side, was a mixture of senior and junior players, many of which may represent the country at the 2008 International Cup. When trying to persuade sceptics of the potential for footy beyond Australia's shores, there is sometimes the case of people switching from scepticism to great expectations of countries immediately producing champions. For any who may have hoped footy in a rising nation such as South Africa might be competitive with Australia's best young players, the scoreboard will be a little depressing. The elite Aussies were never threatened, with an avalanche of goals, winning by 150 points, with the difference in skill level the most noticeable difference. As we've remarked before, Australian Football is such an attacking sport that it is very difficult for an out-gunned side to simply stack their defence and hold on - indeed that is a feature that makes our game so good, despite the flooding tactics seen in the AFL in the past decade. Hopefully the Africans didn't resort to such methods, as going head to head with their more fancied opponents would be a far greater learning experience.


Saturday 14th April, Sedgars Park (North West Cricket Stadium), Potchefstroom, North West Province, South Africa

Scores
Australia (AIS/AFL under 17s) 23.24 (162)
South Africa (selection) 1.6 (12)

Goalkickers
Australia: Hartlett 4, Ebert , Rich, Cotchin, Grimes 2, Morton, Notte, Whitecross, S Reid, Maric, Smith, Stanton, Dangerfield, Gugliotta, Zespreni, Cornelius 1
South Africa: Benji Motuba 1

Best players
Australia: Dangerfield, Cotchin, Ebert, Hartlett, Gaerter, Grimes, Maric, Ross
South Africa: Richard Phakedi, Brian Mitchell, Benji Motuba, Steven Matshane, Julian Horn


The day was also the launch of Sedgars Park as a playing venue for Australian Football, complimenting its role as the main North West cricket oval. Joel Kelly reported that "AFL standard goal-posts stood tall in front of the traditional sightscreens, the scoreboard rained goals and behinds rather than runs and wickets and the small but enthusiastic crowd of African and Aussie supporters cheered every kick, mark and tackle instead of sixes and fours".
Let's hope the AIS and AFL feel the many positives outweigh the understandable imbalance between their team and the South Africans and find room in the calendar and funding to ensure the tour becomes a regular fixture. Joel Kelly noted that "the comraderie developed between the South African and Aussie boys over a week of school clinics, township visits and cultural tours, emphasised that this particular AIS/AFL tour was about so much more than developing the lads as footballers". AIS Assistant Coach and hero of three Brisbane AFL premierships, Michael Voss, said "This week I saw 30 young Australian men mature as people – they can return home safe in the knowledge that they have been fine Ambassadors for their country".
From Potch it was across to Johannesburg then down to Cape Town for the Western Cape launch of FootyWild. Next Friday, April 20, the no doubt weary Aussies will arrive back in Perth, WA, to take on a Swan Districts (WAFL) side the following day, concluding the whirlwind tour which was above all, dare we say, good for football.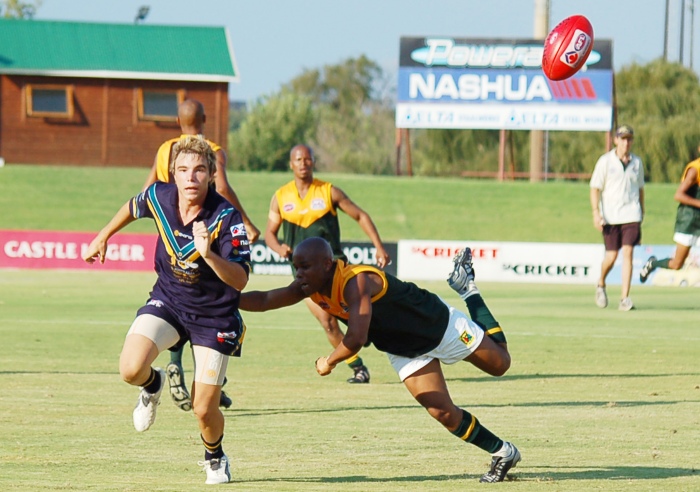 Action from Australia under 17s versus South Africa.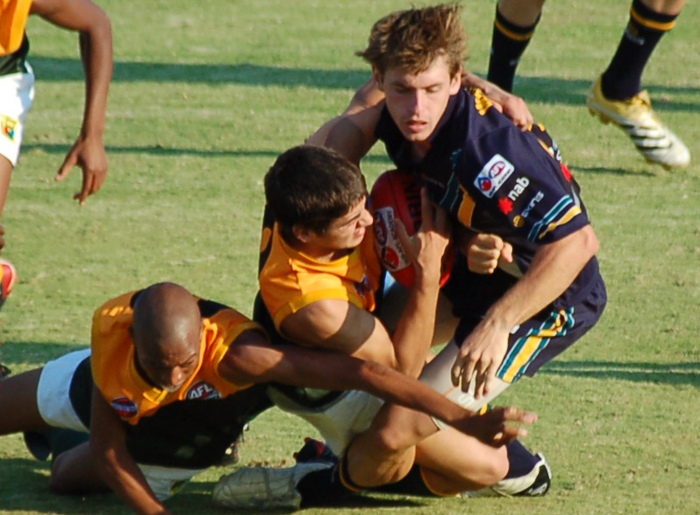 Tough in the clinches.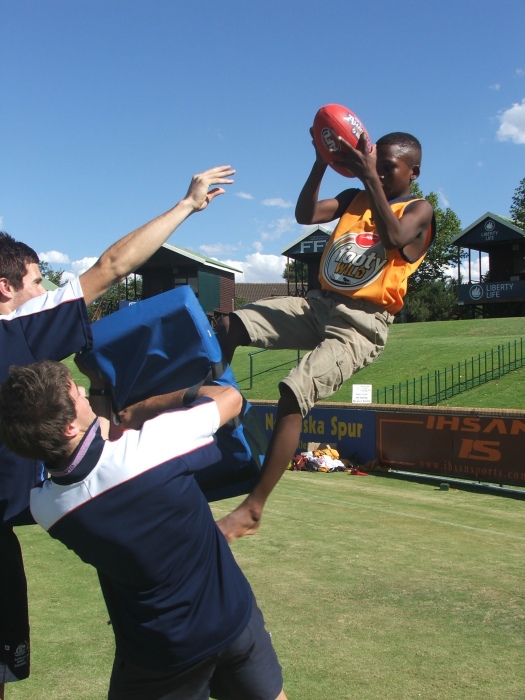 The raw athleticism that excites good football judges - and undeniably great fun too.