French almost pull off an upset against the Reading Roos
Wednesday, March 15 2006 @ 05:43 pm ACDT
Contributed by: Aaron Richard
Views: 14,172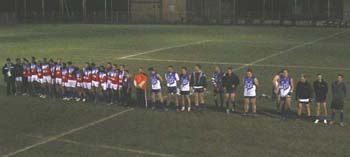 In the promotional match held last weekend between a French selection and British club the Reading Roos, the French side (mostly rugby players very new to Aussie Rules) came very close to pulling off an upset against the seasoned Brits, the margin during the last quarter at one stage only three points before Reading kicked the sealer to win 75-66. The game was played in cold conditions in front of between 500 and 700 spectators, including a sizeable media presence.
Also donning the new Coqs guernseys were players from Brest and the Paris area, though the majority of the French team on Saturday were local Catalan players - 8 rugby union players and 2 recruited from rugby league. The first quarter saw the French finish a few goals behind 28-6, the second quarter also going well in favour of the English. Kicking with the wind however, the Coqs were able to claw back into the game in the third quarter and then in the last term their fitness helped them almost overrun the Roos, closing the gap to three points, 69-66 three minutes before the final siren before the Roos kicked the closing goal of the match.
Umpiring the match was Reading's Joao Coelho, taking the whistle at short notice from Aussie Rules International's Philip Porublev, who travelled down from Sweden to coach the locals.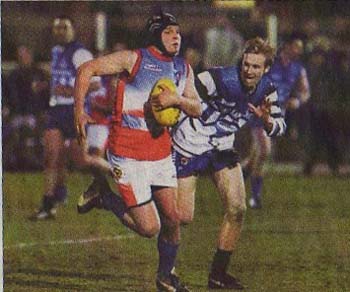 The Roos will now return to a tournament held at their home in Berkshire, hosting international visitors including the Atlanta Kookaburras.
Host club of the event, the St Esteve Saints, have also recently launched their new website at www.footycatalan.com.