Update to Ben Graham Longest Kick Contest
Sunday, January 22 2006 @ 08:37 pm ACDT
Contributed by: Troy Thompson
Views: 8,960

The New York Magpies and other organisers of the Australia Day longest kick competition, featuring NY Jet and ex-Geelong AFL player Ben Graham, have released further information on the locations and details of their contest.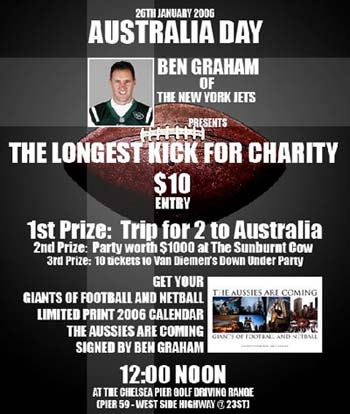 The competition will be held at the Chelsea Pier Golf Driving Range, Pier 59, West Side Highway at 23rd Street from 12-noon. Entry to the competition will be $10. First prize is a trip for two to Australia, second prize is a party at The Sunburnt Cow to the value of $1000 and third prize is ten tickets to Van Dieman's Down Under Party
A calendar has also been produced in collaboration between the Sunburnt Cow, Operation Oz Kids, The New York Magpies, Bondi Fish and Chips, and The Manhattan International Netball Club (MINC). It can be seen at http://theaussiesarecoming.com. The majority of the proceeds are going to the needy charity http://www.operationozkidsusa.org.
These calendars will soon be available online or you can buy your own copy at the Ben Graham contest and have it signed by Ben himself. The calendars will also be available for purchase at the Magpies Australia Day event on January 28th, the Wine event on January 26th and anytime at The Sunburnt Cow.