Japan to warm up for AFIC 2005 at Arafura Games
Tuesday, April 26 2005 @ 10:09 pm ACST
Contributed by: Brett Northey
Views: 3,514

The Japan AFL have announced they are sending a team to compete in the Arafura Games from May 13th. This should be an ideal preparation for the Australian Football International Cup in August. Darwin has long been home to international footy competition and remains an ideal location for Australia's northern neighbours to compete.
Japan AFL's Troy Beard says the side is a young squad, drawn mainly from the University teams. At this stage no official releases have been made from the Arafura Games or Northern Territory AFL regarding other teams, but Beard hopes to at least see Melbourne Vietnam, NT Super Rules and a NT Junior Islands team. The Arafura Games are held every two years in Darwin, the capital of the Northern Territory in Australia's central far north, including classic Outback country. The Games are named for the sea off Darwin's coast.
Over the years several countries have attended the games to play Aussie Rules. For those not familiar with the Games, the eligibilty rules are designed around promoting development in various sports. It seems like an ideal venue for some of the Asian countries to compete in Australian football, especially those that have mainly expatriate Australian players and so are ineligible for the International Cup. The criteria state: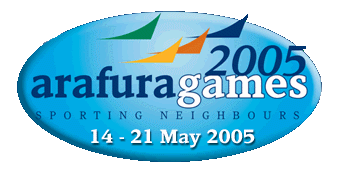 To compete in the Arafura Games 2005, sporting teams must represent a city, provincial or state association. In addition, from the same region a university or combined universities team may compete, as well as a services team (eg. Police, Fire, Ambulance). National teams are also eligible to compete and may represent the nation as a national team, junior team or development team. To ensure equitable competition and balance of numbers from countries, the organisers reserve the right to make arbitrary decisions as to whether to accept national teams. This will be done in consideration of the fundamental principle of the Games: "Developing the world's elite athletes".

Japan's squad follows (name then club):

Troy Beard Nagano (Head Coach)
Richard laidler Guma F.C (Assistant coach)
James Young Kuma's (Assistant coach)

Takashi Yamazaki Kansai Kangaroos 
Yuta Tsutsumi UNI
Jyun Oikawa Samurai
Masahiro Kawano UNI
Yosuke Kuno Samurai
Ryo Saito UNI
Kenta Sakatani UNI
Tsuyoshi Kase Go-Kong
Katsuhiko Arata UNI
Toshiki Matsuhashi UNI
Masaaki Kichise UNI
Atsushi Kasai UNI
Yasuhiro Takamiya UNI
Yukihide Nishida UNI
Michito Sakaki Samurai
Junichi Tateishi UNI
Jun sekiguchi Samurai
Hideki Miyasaka Go-Kong
Toshihiro Wakasawa Samurai
Hiroyuki Shiba Box Hill North F.C (Scholarship winner)