Convicts defeat South Africa in spirited battle
Friday, February 18 2005 @ 03:02 pm ACDT
Contributed by: Brett Northey
Views: 3,055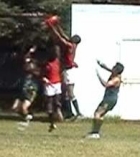 In the final match of the Convicts' successful tour of South Africa, the Aussies played the national side in Eldorado Park in Soweto, the famous town/suburb outside Johannesburg. The Australians came out all guns blazing, finishing the game in the first quarter, before the match settled into a more even tussle.
The Australians dominated the centre square, running in numbers which allowed accurate passing into the forward line, and dominant performances from the Convicts forwards. A stronger ruck performance thereafter helped stem the flow for the Africans, and a good match was seen on the small field, with defenders from both sides struggling to control the flood of players streaming downfield. Unfortunately no significant crowd turned out to see the match, as had been hoped, and that occurred for all three matches. If future tours are held, it would be great to see the games promoted more widely in the local communities.
After the match, plenty of photos were taken and a few guernseys exchanged, and the Convicts took the opportunity to donate some footballs and other footy gear to the South African players.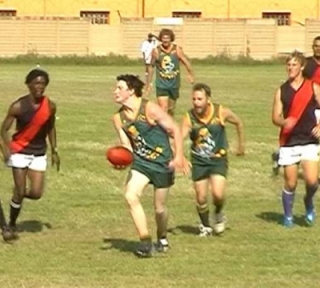 Scores were:
| | |
| --- | --- |
| South Africa | Convicts |
| 4.5 (29) | 13.5 (83) |
| 9.6 (60) | 15.8 (98) |
| 13.9 (87) | 19.10 (124) |
| 15.11 (101) | 24.11 (155) |
Best player for South Africa was Mtutuzeli Hlomela, known as Tutu. He played a season of under 19s for Sturt in South Australia many years ago, on a scholarship, and his experience was obvious. And he seemed like a pretty nice bloke too. No doubt the South Africans won a few fans amongst the Convicts players.