North West Province tougher but Convicts win again
Tuesday, February 08 2005 @ 08:35 am ACDT
Contributed by: Brett Northey
Views: 3,154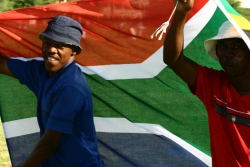 The second match of the Convicts tour has been played, on 3rd February, in the northern city of Mafikeng. The Australians encountered a tougher side than their first match, so had to lift their tempo, but again ran out comfortable winners.
The match was again played in good spirits, but the North West Province boys certainly had more experience than Gauteng, so the Aussies had to focus better on the game. Notet that inter-Provincial matches are not often played, so for all 3 games the locals have been wearing the same red and black jumpers. The match was held in hot conditions at the University grounds in Mafikeng, and again the oval was good for Australian Rules football. With a PA system running with commentary, the game had a good atmosphere.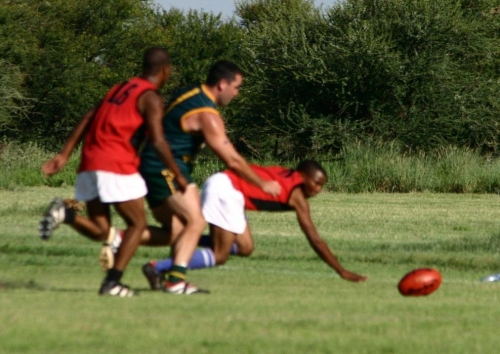 Once again the superior size of the Aussies was too much for the locals. The Convicts' ruckman continually won the taps, setting up the majority of centre clearances. The South African forwards became frustrated and soon they were playing with a vacant forward line as they went in search of the ball. The match was much more physical than the last, and the Convicts came out with plenty of bruises and even a few stitches.
The final score saw the Convicts defeat North West by about 100 points, but the Aussies were certainly putting in a solid effort, so it was no disgrace to North West. The players from both sides again enjoyed singing their songs in a circle after the games, and exchanging a few laughs. In later stories, I'll say more about the great footy clinics and have some photos, plus try to evaluate the level of the Convicts squad, so that the South African teams can be rated better.
Scores were:
| | |
| --- | --- |
| North West | Convicts |
| 1.3 (9) | 6.3 (39) |
| 4.3 (27) | 12.4 (76) |
| 5.8 (38) | 18.6 (114) |
| 7.10 (52) | 22.12 (144) |
Best player for North West, as selected on the day, was Benjamin Motuba, a black player who obviously had a good grounding in Australian Rules football and will be hoping to represent South Africa at the International Cup. Daniel O'Reilly was named best for the tourists.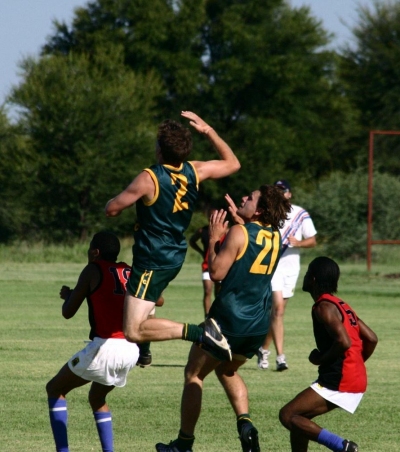 North West got numbers to the ball (previous photo) but the Convicts dominated in the air (above).