Lebanese Falcons take Flight
Friday, October 01 2004 @ 06:01 am ACST
Contributed by: Aaron Richard
Views: 16,177

Hashem Ouaida recently returned to Melbourne following one year of hard work bringing the Australian native code to his ancestral homeland of Lebanon. His efforts also helped start up a Melbourne Lebanese community football organisation which fielded a side in this year's Multicultural Cup and has started a Sunday social competition.
World Footy News recently caught up with Ouaida to talk about their progress. Back in 1953, Ali Ouaida arrived as a new migrant in Melbourne. He had not long been in the country before he chanced upon a Carlton home game at Princes Park and was hooked - determining that he wanted to take the game to the world. The Ouaida family have since been heavily involved with Aussie Rules in the Melbourne Lebanese community and Hashem credits Ali with the initial idea of taking the game back to Lebanon.
Meanwhile, in Melbourne, the Lebanese community has got right behind their local branch, the Australian Lebanese Football Association (ALFA), who have started a community competition playing on weekends in Brunswick, featuring players from multiple nationalities.
After recruiting a solid side to represent Lebanon, the newly christened 'Falcons' entered the Multicultural Cup. While they didn't take home the trophy, the competition was a great catalyst for creating interest. "We have received a massive possitive input from the local Lebanese Community. Many people regretted that they were not involved and are very anxious to be involved next time. We will be mustering a much stronger and professional unit next time we play in the Multicultural cup".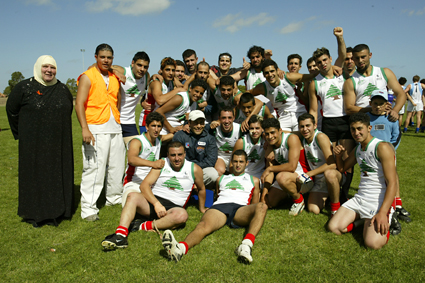 The development of Aussie Rules in Lebanon hasn't been easy, and Ouaida has had his work cut out for him. "Lebanon's a tiny country, smaller than Tasmania, and facilities are hard to come by. Luckily we found a large soccer ground with an interested manager and were able set up three clubs".
The financial situation in Lebanon hasn't helped either. Social sport isn't much of an option - even taking a few hours each week to train and a few hours on a weekend afternoon to play can mean missing more work than a lot of Lebanese can afford. "So, we've had to come up with incentives. Obviously, having a cup in Australia to aspire to is a huge advantage. We also need to find some major sponsors. Hopefully we can get funds to have a five-team professional league running in Lebanon within five years".
"One of our biggest problems is that many people in Lebanon confuse Aussie Rules with Rugby League. The Lebanese national rugby league team was created a couple of years ago by a group of guys from Sydney with Lebanese passports - and still people recognise them as 'those guys from Australia'. When you meet people and try to get them interested in Aussie Rules, it's difficult if they say 'that Australian game? Sorry, saw it and didn't like it' and you have to spend hours explaining to people that it isn't the same thing".
Ultimately, the Lebanese Falcons may be out to contest in the International Cup. In the meantime, Ouaida makes another offer - "Every second Saturday we have a BBQ and a kick of the footy at Moreland Football Club, anyone's welcome to come down and say hi".